Mike Birbiglia on his sleeper hit "Sleepwalk With Me" and going toe-to-toe with Joss Whedon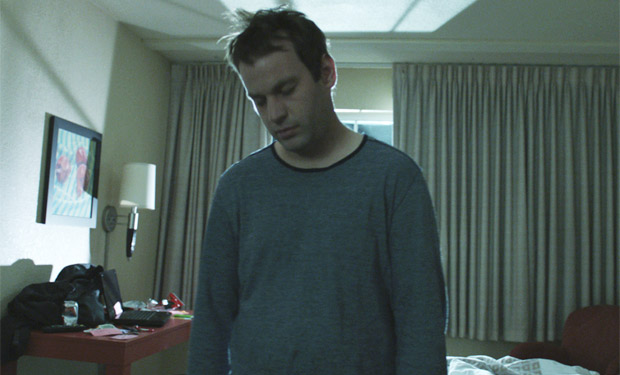 Posted by Jennifer Vineyard on
Usually whenever someone is depicted as sleepwalking in a TV show or movie, the person has his or her eyes closed, arms out and extended like a zombie, and somehow manages to avoid all obstacles — sometimes with the help of friends who think it would be more dangerous to wake up the dreamer. "Think about Olive Oyl in the 'Popeye' cartoons, when she goes to the construction site and Bluto and Popeye have to help her," comedian-turned-filmmaker Mike Birbiglia told IFC. "Or 'The Honeymooners,' when Ed Norton is sleepwalking and Ralph Kramden has to help him."
But that's not how it works in real life, as Birbiglia unfortunately knows all too well — he once jumped out the closed window of his hotel room while asleep. It's a dramatic moment depicted in his stand-up show, book, "This American Life" episode, and now semi-autobiographical film, "Sleepwalk With Me."
"It's funny how sleepwalking has never been portrayed accurately on film," he said, "even though it's a special moment in time where sleepwalking is now more common than it's ever been. Sleep disorders are at an all-time high." Indeed, some 40 million Americans suffer from chronic sleep disorders, according to Dr. Carlos Shenck's documentary "Sleep Runners." And those with REM sleep disorder behavior (RBD) — Birbiglia's own diagnosis, based on a dopamine deficiency — can even engage in violent acts such as punching or kicking while asleep, because they're acting out their dream.
"Sleepwalk With Me" uses sleepwalking as a way to explore the anxieties of a young man trying to break into stand-up comedy and plan a wedding to a woman he's not fully sure he wants to marry, all of which, of course, exacerbate his sleep disorder. Not that Birbiglia had it any easier.
"When I was directing the movie, I had a lot of sleep deprivation, which of course made it worse," he said. "I would have dreams about directing the movie, like I was shooting the movie from bed. My wife would say, 'What are you doing?' And I would say, 'I'm shooting.' 'Sorry, you're not shooting right now.' And I would get really patronizing and say, 'I'm sorry, but we are.' I wasn't antagonistic, just condescending."
Birbiglia's usual recurring dream is that he's running away from something, "a demon or a wild animal, like a jackal," he said. "Sometimes it's invisible aliens represented by balls of light." He finds that he's not very powerful in his dreams, and his only recourse is to sprint away. The night he jumped out the window, he had dreamt a heat-guided missile was en route to his bedroom and that he had to be like the Hulk to escape it.
"That's not my most common dream to occur," he said, "but it's all borne out of anxiety. Freud's theory was that you're excising the feelings you have in life, and it can be cathartic to dream about your anxieties. But even when I dream something literal, it's got these absurdist elements. If I dream that I'm directing, it's not a film, it's like a commercial for cotton candy, and I've got four feet of cotton candy all around me that I've got to break through, like a brick wall or a fortress."
To prevent himself from actually running or fighting the demons, jackals, and aliens of his nightmares, or eating through what might not be cotton candy after all, Birbiglia takes medication for his RBD and sleeps in a sleeping bag in bed. He used to wear mittens to bed as well so he couldn't open the sleeping bag, but not anymore.
"When I go to bed, my wife reminds me, 'Time to get in your pod,'" he said. "I have a sort of summer sleep sack so it's not too hot, and I have very strong shutters on the window so it's really impossible to break through that. My wife is wildly vigilant about my sleep hygiene, and she's been a great supporter throughout all of this, because even though it works well in a comedy, it is a real and all too sobering of a situation."
Not so sobering that Birbiglia can't take on "The Avengers," though — after all, he did dream he was the Hulk when he jumped through that window! This is part of why he's encouraged by the blood feud with Joss Whedon, who urged a boycott of "Sleepwalk With Me."
"I think the feud has brought attention to both franchises, some positive, some negative," Birbiglia laughed. " I think 'The Avengers' is hurting, so we might need to merge our two franchises, which would be a very logical collaboration. My character would be a new Avenger, who has some shades of grey. He's a lot like the Hulk, but he's not a rage monster. I don't know what he is, truthfully. This is all very early stages, and the first discussion to be had about it, so it's too early to speculate, but let's say it's slated for the 2029 'Avengers.' 'Avengers 15'!"
"Sleepwalk With Me" opens today in New York City, with more cities in the weeks ahead. "Sleepwalk With Me" is distributed by IFC Films, a sister company to IFC.com.