Michael Keaton replaces Hugh Laurie as "RoboCop" villain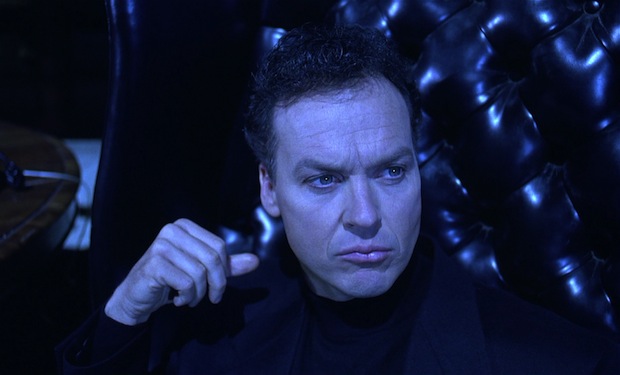 Posted by Terri Schwartz on
Goodbye Dr. House, hello Batman.
Director Jose Padhilla didn't waste time recasting the villain in his upcoming remake of "RoboCop." Less than a week after news broke that Hugh Laurie had turned down the role of OmniCorp's evil CEO, Variety's Justin Kroll is reporting that Michael Keaton has taken the part.
While we expected the actor who replaced Laurie to be of the same caliber, we're a bit surprised Keaton took the role. We're more used to him playing a protagonist instead of an antagonist, but think he will still do great as the villain. In fact, we might be more excited about him playing the character than we were about Laurie.
Keaton is just the latest actor to join "RoboCop's" increasingly impressive cast. So far the remake stars Joel Kinnaman, Abbie Cornish, Gary Oldman, Samuel L. Jackson, Jay Baruchel, Jennifer Ehle, Jackie Earle Haley and Michael Kenneth Williams. If there was any way to convince us that this new take on the classic cult film is worth making, it's putting together a cast like this, and Padiha knows it.
"Michael is the final addition to the amazing cast we have assembled for this film and it is so great to have the last puzzle piece in place," Padilha said in a statement to Deadline. "It is thrilling that everything has come together to bring this innovative new vision of RoboCop to life. We've got a great script, a great cast, some killer ED-209's and I can't wait to get Alex Murphy back on the streets."
Here's the official synopsis for "RoboCop":
"In 'RoboCop,' the year is 2029 and multinational conglomerate OmniCorp is at the centre of robot technology. Their drones are winning American wars around the globe and now they want to bring this technology to the home front. Alex Murphy is a loving husband, father and good cop doing his best to stem the tide of crime and corruption in Detroit. After he is critically injured in the line of duty, OmniCorp utilises their remarkable science of robotics to save Alex's life. He returns to the streets of his beloved city with amazing new abilities, but with issues a regular man has never had to face before."
"RoboCop" is due in theaters on August 9, 2013.
Do you think Keaton will do a good job as "RoboCop's" villain? Tell us in the comments section below or on Facebook and Twitter!