"Mad Max: Fury Road" set photos tease the post-apocalypse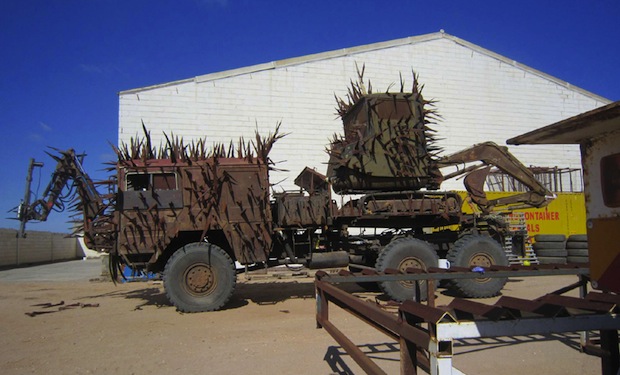 Posted by Terri Schwartz on
At long last, "Mad Max: Fury Road" is in production. The movie has had a long, difficult road to the big screen almost since its inception, but the long-awaited "Mad Max" film finally started filming on July 9. Now some set photos have hit the internet that show the new post-apocalyptic world that creator and director George Miller has created.
You can find all of the images over at CineCommunity (via Collider). They show a very interesting array of props, including the War Rig driven by the Imperator Furiosa and a set of bracers equipped with some pretty lethal knives. What we really are impressed with are the vehicles in this movie, which tease the old-meets-new mentality in the latest "Mad Max" film.
In a recent interview with ComingSoon.net, Mel Gibson said that he's definitely interested in the new "Mad Max" film and has even sat down and talked with Tom Hardy about the role.
"They cast him, but I sat down with the guy and I quite like him. I think he's a good choice for that," Gibson said. "I think he's a good actor. He commits completely and he looks great. There's this scary thing about him which is kind of right for that. Tom needed to sit down and talk more than I did. I'm really happy about that. But I hope they do a great job. I'm a big fan of George's."
A recently-released press release about the film includes a snippet from Miller where he explains what this new movie is about.
"Mad Max is caught up with a group of people fleeing across the Wasteland in a War Rig driven by the Imperator Furiosa," Miller said. "This movie is an account of the Road War which follows. It is based on the Word Burgers of the History Men and eyewitness accounts of those who survived."
The project stars Tom Hardy stars as Mad Max, Charlize Theron as Imperator Furiosa, Nicholas Hoult as Nux and Zoe Kravitz, Riley Keough and Rosie Huntington-Whiteley as the trio of women known as The Wives.
Are you looking forward to "Mad Max: Fury Road"? Tell us in the comments section below or on Facebook and Twitter.