Call-In Commentary: Watch the "Little Birds" trailer with writer-director Elgin James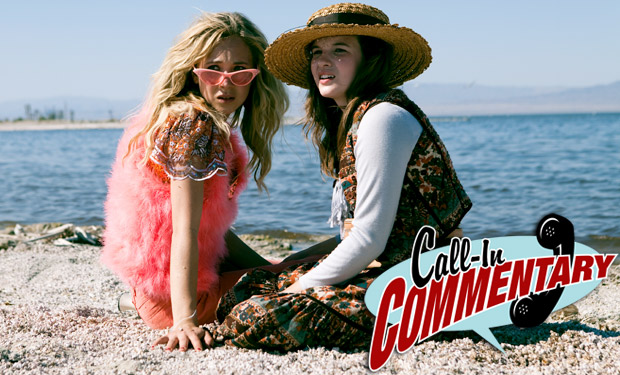 Posted by Brian Jacks on
The teenage years are difficult ones to traverse, as children grow from adolescence into the next stage of their lives. With the rebelliousness and uncertainty that generally comes along with that transition, it's an area often mined by Hollywood and that's precisely what filmmaker Elgin James taps into for his new picture, "Little Birds."
"Little Birds" follows rising star Juno Temple as a 15-year-old girl growing up with her best friend (Kay Panabaker) in the decaying slum of Salton Sea, California. When the pair meet a few street kids, they decide to follow them back to Los Angeles where they quickly become roped into a life of petty crime. As her friend aches to return home, Temple is drawn into making a potentially life-changing decision that could destroy the rest of her life. Leslie Matt and Kate Bosworth co-star.
One person who knows about destructive choices is James himself, who actually served prison time after finishing the project. It's just one of the reasons we were fortunate enough to get James to record a Call-In Commentary, where directors narrate their trailers for us. In the video below, hear James introduce his film and the story behind the trailer itself. "Little Birds" opens in New York City tomorrow, with additional cities to follow.
video player loading
.
.
.
MORE CALL-IN COMMENTARIES:
– Watch "The Babymakers" trailer with director Jay Chandrasekhar of Broken Lizard
– Watch the "Robot & Frank" trailer with director Jake Schreier
– Watch the "Iron Sky" trailer with director Timo Vuorensola
– Watch "The Imposter" trailer with director Bart Layton
– Watch the "Dark Horse" trailer with writer-director Todd Solondz
– Watch the "Snow White and the Huntsman" trailer with director Rupert Sanders
View more Call-In Commentaries…
Will you be checking out "Little Birds"? Let us know in the comments below, or on Facebook or Twitter.