"Lawless" red band trailer makes the film look better than ever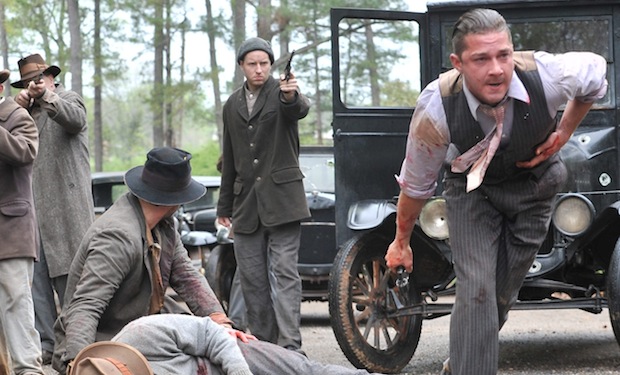 Posted by Terri Schwartz on
Considering "Lawless" is due in theaters next week, we're a bit surprised that The Weinstein Company waited until now to release by far the best trailer in the film's campaign. We've been interested in John Hillcoat's latest movie ever since it was called "The Wettest Country in the World," and the new red band trailer for the flick just makes that interest all the more justified.
If the film looks as beautiful and stylized as this trailer does, then count us on board. Tom Hardy looks just as foreboding as he did as Bane despite the fact we can see his face this time around, and Shia LaBeouf looks like he's finally getting to stretch the acting muscles that had grown soft in the "Transformers" films. But it's really the look of "Lawless" that has us the most interested, and it's something that comes to the forefront in this teaser.
And those two are just the tip of the iceberg for this impressive cast. Jessica Chastain, Gary Oldman, Mia Wasikowska and Guy Pearce round out the ensemble, and each looks very comfortable in the period setting.
Here's the official synopsis for the film:
"'Lawless' is the true story of the infamous Bondurant Brothers: bootlegging siblings who made a run for the American Dream in Prohibition-era Virginia. In this epic outlaw tale, inspired by true-life tales of author Matt Bondurant's family in his novel 'The Wettest County in the World,' the loyalty of three brothers is put to the test against the backdrop of the nation's most notorious crime wave."
The movie is due in theaters on August 29. Thanks to Vice for posting the trailer.
What did you think of this trailer? Tell us in the comments section below or on Facebook and Twitter.