Keanu Reeves talks "Bill & Ted 3" plot details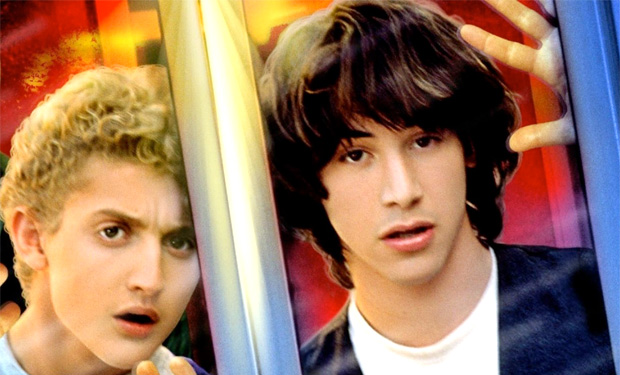 Posted by Terri Schwartz on
Hot off the news that "Bill & Ted 3" has found its director in the form of "Galaxy Quest's" Dean Parisot, Keanu Reeves has given us a bit of a tease of what we can expect in the new movie.
In an interview with GQ, Reeves set up the plot of the long-anticipated sequel. Let's just say the premise for the film sounds most excellent.
"One of the plot points is that these two people have been crushed by the responsibility of having to write the greatest song ever written and to change the world. And they haven't done it. So everybody is kind of like: 'Where is the song?'" Reeves said. "The guys have just drifted off into esoterica and lost their rock."
He continued, "We go on this expedition, go into the future to find out if we wrote the song, and one future 'us' refuses to tell us, and another future 'us' blames us for their lives because we didn't write the song, so they're living this terrible life. In one version we're in jail; in another we're at some kind of highway motel and they hate us."
Reeves, who is approaching 50 but looks as young as he ever has, was also asked how it felt to "imagine those characters middle-aged."
"I don't know," he answered bluntly. "It's one thing to think about it, but to perform it…"
The real question is whether he and Alex Winter will be playing themselves as present day Bill and Ted or as future Bill and Ted. We aren't quite sure which will require more make-up, though we wouldn't mind seeing Reeves with a beer belly as the older version of his character.
Both Reeves and Winter are back on board to star in the threequel. "Bill & Ted" creators Ed Solomon and Chris Matheson have finished the script for the project, which "would address where Mssrs. Ted Theodore Logan and Bill S. Preston, Esq. are in their lives today as opposed to being a reboot or remake." No word yet on when "Bill & Ted 3" will begin filming, but it's probably still a year or two out.
What do you think of the premise for "Bill & Ted 3"? Tell us in the comments section below or on Facebook and Twitter.