Judy Greer confirms Kitty Sanchez is back in "Arrested Development"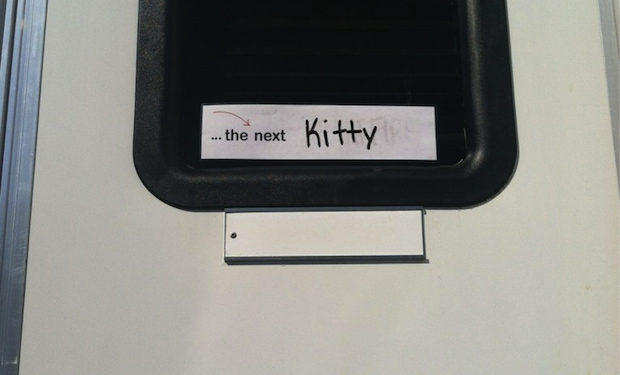 Posted by Terri Schwartz on
It's time to say hello (again) to these. Judy Greer tweeted the confirmation we've all been dying to hear: Kitty Sanchez will indeed be returning to the fourth season of "Arrested Development."
"Guess what I'm doing today……." Greer tweeted last night along with the above photographic evidence. She's not the first actor to tweet images from the set, but Jason Bateman has largely been on radio silence for the past few weeks. At least Ron Howard has been offering some teases, but — as he puts it — he's "not giving away ANY details."
When we caught up with Greer back in March, she offered her dream explanation for Kitty's return.
"I'd like for her to take the whole family down," she said. "I feel like Kitty Sanchez should come back with all the secrets and take down the Bluths. But, I probably shouldn't put it out there, because then they'll be like, 'Well, now we can't do that!'"
Hopefully this experience filming will be just like the last time, which she described as being last-minute and awesome because of that.
"They'd be like, 'Can you come in to work tonight?' I'd be like, 'Yes, where are you shooting?' 'In Piru, can you be here in an hour?' 'Yeah, I'm at dinner. Like, I'm drinking.' 'It's fine, it's fine, we just realized we have to have you in this scene.' They were just kind of awesome," she told us in May.
"Arrested Development" is currently filming its at-least-10-episode fourth season for Netflix. Season four picks up several years after the events of season three, and each episode will focus on a different member of the Bluth family. If this Netflix season is successful, Hurwitz is planning to follow it up with either a fifth season or a movie. "Arrested Development's" new season will be released at once at some point next year. In addition to Greer, Ron Howard, John Slattery, the cast of "Workaholics" and Scott Baio will all be guest starring in the new season.
Are you glad Greer is back as Kitty? Tell us in the comments section below or on Facebook and Twitter.