Joss Whedon talks "S.H.I.E.L.D." TV show, "Avengers 2" and deleted scenes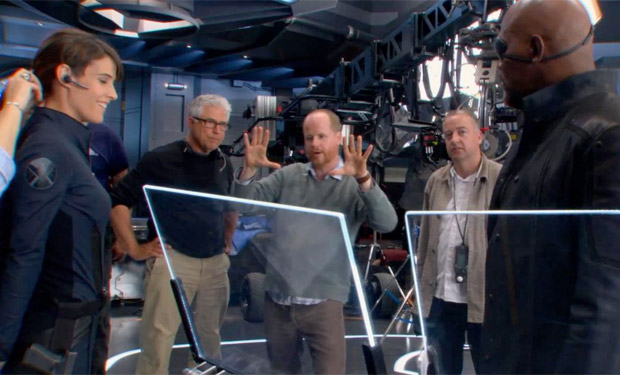 Posted by Terri Schwartz on
Now that Joss Whedon and Marvel Studios go hand-in-hand, there's a lot we want to know about his plans for the Marvel cinematic universe. Fortunately, Vulture had the chance to chat with the director and ask him everything we wanted to know. The full interview is a great read, but we put together bullet points for you here so we can get down to the nitty-gritty.
"S.H.I.E.L.D." first. While we can't pick a Marvel project we're most interested in, we definitely are the most intrigued by the new Marvel TV show on ABC. Whedon wouldn't go into too many details about his plans for the series, but he did offer us a broader look at it.
"The important thing to me is that we know what the show is. We love what it is," he said. "It came together very organically, so when we went in to pitch [to Marvel], it wasn't like, We're trying to find this because you want a TV show, it was, Check this out. And that's a good way to walk in a room."
Whedon seems most excited about that property because he's not chained at the waist to it.
"What's great is that the deal with Marvel is nonspecific, so I will give all I can, but the moment I can't, I just walk away. The moment I say, 'You know, I'd like to help more on this project, but I need this time for "The Avengers",' there's no obligation," he said. "It's not like, 'You must spend this amount of time on this movie.' It's as much as it needs to be."
As for "The Avengers 2," Whedon is as excited about directing the movie as we are to have him back.
"[The upcoming Marvel slate] is like a tapas menus of projects that excite me, in addition to the 'Avengers' sequel, which I'm excited for because I'm incredibly excited about the next story that I'm going to tell. For me, it's a huge win," he said.
Then there are those alternate scenes that have been released from "The Avengers" all week. Whedon went on to open up about why he cut those and why they didn't fit.
"Two factors. One: The movie was three hours long. Two: Audiences didn't respond to it as well in the movie as I think they would as a DVD extra," he said.
For the alternate opening, he explained, "I thought Cobie nailed it, and the reason I thought it was necessary is because I was trying to make a war movie and I wanted to give context that something bad had happened in the past. In a war movie, you don't know who's going to live or die, but you do know that this war happened and that [the characters] are going to be in a dire circumstance, and I wanted to create that atmosphere."
As for Captain America's different introduction, all Whedon said was, "I hated cutting the Captain America stuff with the waitress."
"The Avengers" returns to theaters for one week starting tomorrow, "S.H.I.E.L.D." is due to start production soon and "The Avengers 2" is due out on May 1, 2015.
Are you glad Whedon is going to be so involved in these projects? Tell us in the comments section below or on Facebook and Twitter.