Jessica Alba goes blonde for "Sin City: A Dame to Kill For"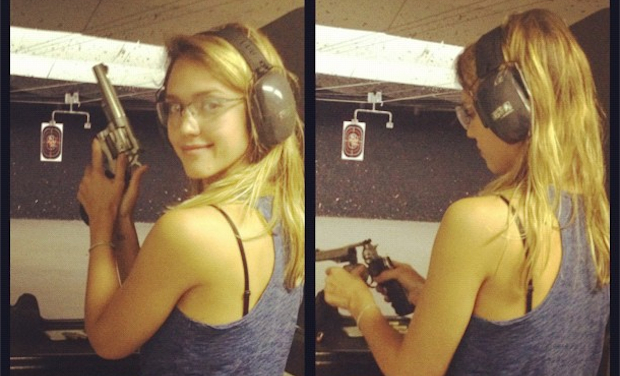 Posted by Terri Schwartz on
Jessica Alba is ready to reprise her role as Nancy Callahan in "Sin City: A Dame to Kill For." So ready, in fact, that she's already dyed her hair blonde in anticipation of the role.
Director Robert Rodriguez should likely start filming the "Sin City" sequel since he wrapped "Machete Kills" at the end of July. We haven't heard about a production start date yet, but we assume that Rodriguez has been in some sort of contact with Alba to let her know it's time to start preparing for her return to Frank Miller's universe. That's likely why she recently headed to shooting range to work on her skills with a handgun.
"What a way to start the day -training for a movie is sorta fun," Alba tweeted, along with the above picture.
She also detailed her transition from brunette to blonde on her Twitter account.
"Bye bye brown hair," Alba tweeted, following it by posting a picture mid-process and another of the final product. "She got roots that Nancy #sincity2"
Alba isn't the only cast member to return for "Sin City 2." Last we heard, Rosario Dawson, Mickey Rourke and Michael Madsen were also in talks to return for the upcoming feature film. We're still waiting to find out if Devon Aoki, Jaime King and Michael Clarke Duncan are interested in returning. From what we've heard, it's pretty unlikely for Clive Owen to take a part in the sequel, though he might return for a brief appearance.
Are you looking forward to "Sin City: A Dame to Kill For"? Tell us in the comments section below or on Facebook and Twitter.