"Jaws" production designer Joe Alves talks CGI, 3D and the film's legacy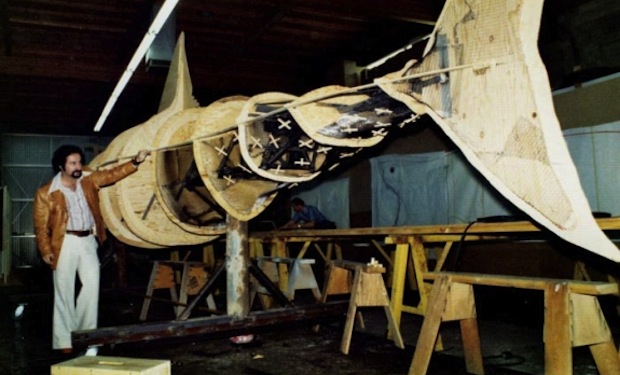 Posted by Terri Schwartz on
For a movie that's almost four decades old, "Jaws" has aged remarkably well. A lot of that can be attributed to Joe Alves, the production designer responsible for creating the movie's titular shark.
Universal Pictures is honoring "Jaws" during the studio's 100th anniversary celebration by releasing the Steven Spielberg classic on Blu-Ray for the first time ever. Lovingly converted frame by frame from 35 mm to the digital Blu-Ray format, this new release is sure to continue to wow fans for generations to come. In anticipation of the Blu-Ray release on August 14, IFC was invited to chat with Alves and some of the other people involved in the project and its restoration.
The interview with Alves took place on Jaws Lake, the area of Universal Studios Hollywood where the film's great white shark has been terrifying theme park attendees for years by jumping out of the water accompanied by a burst of flames. It was the perfect opportunity to reflect on the legacy "Jaws" has created ever since its release in 1975.
video player loading
.
.
.
"I think the legacy is the simplicity of it," Alves explained. "It's the three men fighting this beast, which is not a beast, it's a real thing that's out there, a white shark, just a little bit bigger. Fear. Fear if you go in the ocean it will get you any time. And so I think it's that. It's not like a monster movie, not like a real horror movie. It's like a very realistic something that could terrorize a community. Could hurt you if you're there at the wrong time."
It only helped that Alves's shark looked like something that could easily be spotted in the ocean around Cape Cod. That fear is still prevalent today, where as recently as a few weeks ago a shark was spotted off Massachusetts' coast.
"We created something that's realistic, so there was no exaggeration. It wasn't like we had strange monsters, Transformers and stuff. It was a fin and if you look at [a real shark] fin, it looked like our fin," Alves said.
Of course, at the time he and Spielberg made the movie it was a lot more difficult to convince people that it was a great idea. Alves got to work on the shark for "Jaws" before Spielberg was even on board, and he admitted that he had quite a few struggles making it. The studio wasn't too thrilled about the movie when they finally wrapped, because — as Alves puts it — "we had gone way over budget and schedule, so we weren't heroes." Everything rode on the movie's opening night premiere in Long Beach.
"[The crew] used to laugh there when the shark didn't work. You know, it made funny noises, because of the valves and things," Alves said of the major cause of his nervousness during the screening. "So if it didn't work, the crew would laugh, and so, take away those sounds, add other sounds, add John Williams' music, the best editing, and we showed the movie and we're sitting there going, 'Oh god, I hope they don't laugh.' And they didn't laugh. And they went crazy."
He continued, "If you're really dedicated to what you do, sometimes you do pictures where the script's not so good, but you always try to do your best, because you take it personal. And some of them work, and some of them don't. And 'Jaws' just happened to work. And it went on and on and on."
At the time "Jaws" was created, there wasn't much of a reliance on computer generated technology to make films look better. Alves and Spielberg had to find real-life solutions to the effects they wanted to create in the film. We asked Alves how he thinks "Jaws" would be different it was created in today's Hollywood, and he had a very clear idea.
"There's no question: a lot of CGI. You may do some close-ups with a real [shark,] mechanical, some prosthetics and stuff like that, but I think you'd heavily rely on computer-generated images. Why not? It makes it easier," he said. "I think you get a script and you take the technology that you have available, and you say what works best for this? A prosthetic would work better, actor could react to it, or do it totally green screen and CGI. Those are the decisions that you make for creative reasons and financial reasons, time elements."
Alves also directed "Jaws 3D," one of the major 3D films of the '80s. Obviously 3D has had a huge comeback in recent years, and Alves reflected on the struggles he had directing a 3D movie in that day and age.
"When I made 'Jaws 3D,' I did it to take the [emphasis] off the '3,' because they weren't making '3's or sequels. And I like the underwater quality of it, but I had no idea that when I made this decision and the studio jumped on it and I was going to direct it that the equipment was all so old," he said. "So we had to make equipment and so we were fighting technology, and so it was really difficult. And the convergence and get all that. And then the glasses were bad, cardboard glasses. Today you get these beautiful glasses and you've got all this technology, so it's easier."
Who knows — maybe "Jaws" will get a 3D makeover next.
Do you plan to pick up "Jaws" on Blu-Ray when it comes out Tuesday? Tell us in the comments section below or on Facebook and Twitter.