"Jaws" co-writer Carl Gottlieb discusses the legacy of Universal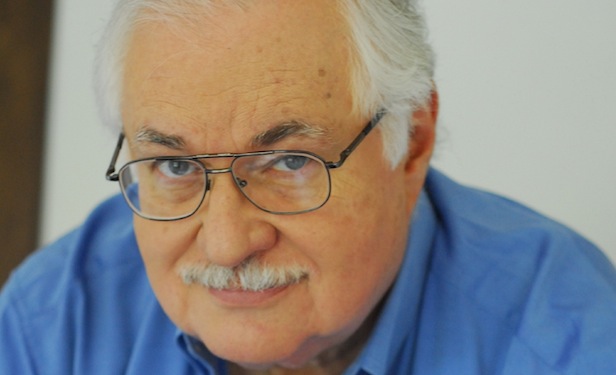 Posted by Terri Schwartz on
When Carl Gottlieb was asked by Steven Spielberg to redraft his script for "Jaws," he likely had no idea how big a cultural phenomenon the film would become. But now, 37 years later, he's happy to reflect back on the most successful movie of his career in light of its debut on Blu-Ray August 14.
"You never know in advance. You find out afterwards. In some respect, it's almost like a live performance," Gottlieb told IFC when we spoke to him at the press day for the Blu-Ray release. "In film, when it's locked, if it's good, you don't really know how good it is until it's played for a few million people, and then after the fact you go, 'Oh my god, we created at least a pop culture icon, if not a work of art.' It's not the 'Mona Lisa,' it's not the cure for cancer, but it is one of the most popular movies ever, so there's that."
There certainly is that. Gottlieb, who also plays Meadows in the film, went on to write the book "The Jaws Log" about the movie's long, difficult journey through production. That book and "Jaws" itself are things that modern filmmakers like Bryan Singer have looked back on to help them in their own careers.
video player loading
.
.
.
"The 'Jaw Log' puts the process in context," Gottlieb said. "When you put it into the larger context of the history of movies and how everything that we do is built on the foundation laid by people who came before us, there's not anything startling or revolutionary was done in 'Jaws,' but a number of things were done either for the first time or done as well as they could be done, given the technology of the time."
In fact, what's interesting about the production of "Jaws" is that the way Spielberg made the film is very different from how movies are made today. The lack of CGI meant that Spielberg could only rely on mechanical effects. The studio system and acting process were very different than how they are today. And yet there's something to be gleaned from how Spielberg went on to make his masterpiece.
Part of that can be attributed to Spielberg's meticulousness. Since they couldn't use CGI to, say, erase a boat in the background of a shot being filmed on location in Nantucket Sound, Spielberg and his crew had to wait for it to sail out of frame. That's likely why the movie ended up being over time and budget by the end of its production.
"That wasn't the technology of the time so they made due with what they had and with Steven's insistence on the guys have to be alone. We can't see land and we can't see boats, because otherwise why don't they just turn around and get help?" Gottlieb explained. "So that's an aesthetic decision that creates production problems but when you stay true to the decision, you wind up with a product that works for the audience."
"Jaws" is a movie that has remained popular long after its release, which is part of the reason Universal chose to honor it with a Blu-Ray remastering during the studio's 100-year anniversary. As "The Shark Is Still Working" producer J. Michael Roddy told IFC, the film created the summer blockbuster. We asked Gottlieb why he thinks "Jaws" is something that's stood the test of time.
"The problems are pretty much the same that everybody faces in their life," he said. "These three very different people have to cooperate or die because their enemy is this implacable villain who can't be reasoned with, who can't be outguessed because it only does one thing, and in the case of 'Jaws,' it's keep after their ass. So these are really timeless elements."
He continued, "All these elements are kind of universal. They're constant. I mean, you could set the film on a beach in the Black Sea resort, you could do it in Cape Town, South Africa, you could do it in South Asia. If those elements are all present, the story is universal, and that's what great stories are: they appeal to everybody across time, and 'Jaws' does that."
"Jaws" is due out on Blu-Ray this Tuesday.
Do you plan on buying "Jaws" on Blu-Ray when it comes out? Tell us in the comments section below or on Facebook and Twitter.