"Jaws" documentary writer J. Michael Roddy explains why "the shark Is still working"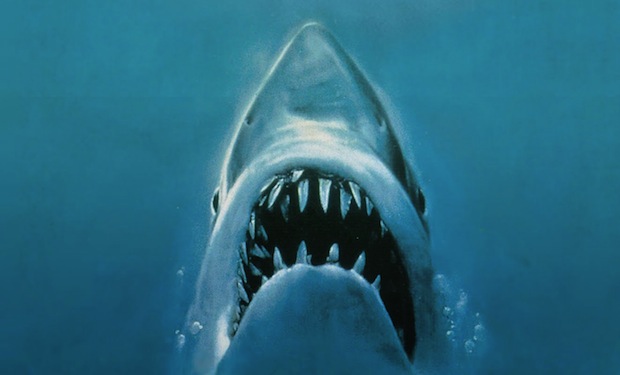 Posted by Terri Schwartz on
Considering the fact that "Jaws" continues to be popular even in its 37th year, it is easy to see that Steven Spielberg's first feature film is as effective as it's ever been. Or, as documentary producer J. Michael Roddy would say, the shark is still working.
Roddy used to work as Universal Orlando's Manager of Show Development and Senior Show Director, so it is easy to understand why he has a stake in the company's back catalogue. But it was clear when speaking to him at the press day for the upcoming "Jaws" Blu-ray, out Tuesday, that he's been a longtime fan of the classic. Back in 2007, Roddy created a documentary called "The Shark Is Still Working" that included new interviews with Steven Spielberg, John Williams and Richard Dreyfuss, and fans are going to finally get to see it on the Blu-ray release that will honor Universal's 100th anniversary.
video player loading
.
.
.
"When we interviewed Steven, he's fantastic. He's a film geek. He's a walking knowledge base of film, and it was such a wonderful time, we just had a blast. But you think about it and you think about the films he'd done before that — he'd done a lot for television and he had 'Duel,' which was a TV movie, and then also 'Sugarland Express' — but all of those were very different types of films," Roddy explained of his experience making the documentary. "'Jaws' really established the style of Steven Spielberg that we know today. That's the film I think we can hearken back to and say, 'There's the beginning of the man that made "Raiders" and the man that made "E.T." and all the films that we love so much.'"
Roddy cited Laurent Bouzereau's 1995 documentary "The Making of Steven Spielberg's 'Jaws'" as the reason he went out and got a laser disc player at the time, so it's clear that he wanted to create something that would have a similar effect on a new generation a decade later. Since Bouzereau had focused on the production of "Jaws," Roddy explained that he wanted to focus on what happened after that: its legacy, its impact on society, and the fact that it has inspired and terrified so many people since.
It's not news that Spielberg and the rest of his cast and crew had a difficult time bringing "Jaws" to the big screen, but Roddy said he was still taken aback by the fact that they had no idea back in 1974 just how big the movie would become a year later. "I don't think any of them really understood," he said. "They were like, 'It's a hit! That's great!' And even now, all the interviews, there's still kind of this shock and awe that it's this entity that's lasted 35 years."
Roddy continued, "I think 'Jaws' came out at the right time for America and the world. We had just had a devastating war that was wrapping up, and also the films of the early '70s were very gritty and real. Fantastic, but they weren't entertaining, per se. And 'Jaws' is a piece of entertainment. I mean, it's pure Steven Spielberg entertainment."
In addition to that, it's a film that many can relate to. Shark attacks are a valid fear, though they don't happen as frequently as one might think. Spielberg capitalized on that terror and turned it into a quality thriller that is rooted in reality while also being pure fantasy.
"The shark still works because every generation will discover 'Jaws' and be terrified by it," Roddy said. "The shark didn't work in 1974, but when it hit theaters, that shark worked really well. It worked amazing. It created a whole genre called the summer blockbuster. And now, some 37 years later, here we have the Blu-ray released and it looks better than ever."
The Blu-ray production returned back to the original 35mm film of "Jaws" and lovingly transferred the movie frame-by-frame to a digital format. Because of that, Roddy believes that it will open the movie up to a whole new generation while making it even more accessible to those who have been fans since the beginning.
"I think 'Jaws' is a signature piece. It is Steven Spielberg's first film that really put his name out there. It also was the creation of the summer blockbuster," Roddy explained of the film's legacy. "'Jaws' was a piece of entertainment that said to families, 'Go to the movies in the summer. Don't just send your kids. Everybody go, and we are going to scare the heck out of you.'"
"Jaws" hits Blu-Ray on August 14.
Do you plan to pick up the Blu-ray of "Jaws"? Tell us in the comments section below or on Facebook and Twitter.