Jason Bateman tweets photo from the set of "Arrested Development"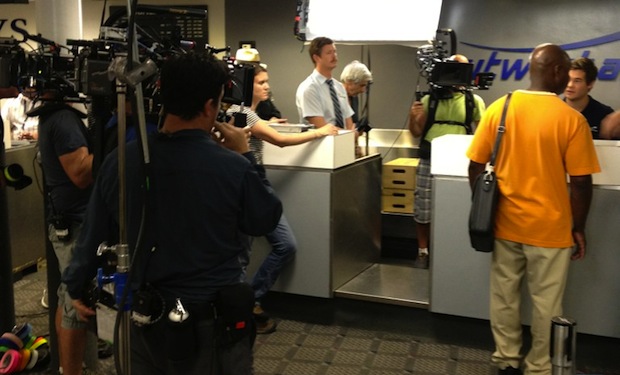 Posted by Terri Schwartz on
When you ask, you shall receive. And boy have we been asking for an inside look at the set of "Arrested Development."
Fortunately Jason Bateman heard our pleas and tweeted the first image of season four episode one, "Michael," filming. "First day. Away we go…" he said of the first day of shooting.
Though we aren't entirely clear on what's going on in this picture, it sure looks like Bateman's character Michael Bluth is working behind the check-in counter in an airport. Is this what he decided to do once he abandoned his scheming family at the end of season three? We wouldn't put it past him, though it likely won't last long.
Notice anyone familiar in the photo? If you're a "Workaholics" fan, you should. Anders Holm and Adam DeVine are both guest starring in (at least) the first episode of the new season, and we couldn't be happier. Mitch Hurwitz acted in one episode of the Comedy Central show as "'Fun' Eric" and apparently had so much fun with the crew that he decided to invite them to the set of his returning cult classic. At least we know who two cameos in the upcoming 10-episode season will be.
The fourth season of "Arrested Development" is due to come out in 2013, though an official release date has not been announced. Hopefully we'll find out about a few more cameos over the next few weeks, though we wouldn't be opposed to having a few big ones kept a secret. Just keep the tweets coming, Bateman. And Ron Howard, you can feel free to chip in as well.
Are you glad Bateman is tweeting images from the set, or would you prefer to have them kept a secret? Tell us in the comments section below or on Facebook and Twitter.