Call-In Commentary: Watch the "Iron Sky" trailer with director Timo Vuorensola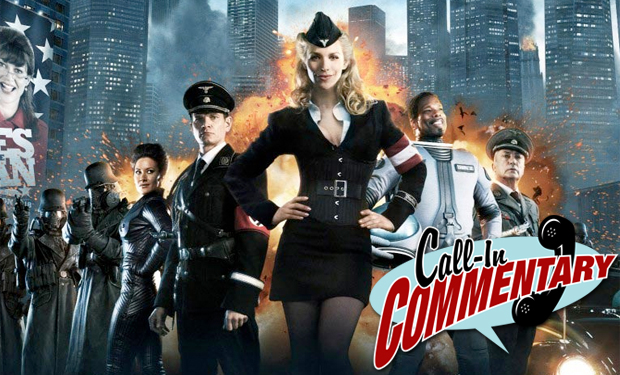 Posted by Brian Jacks on
As a huge genre nerd, I'd been tracking the progress of the German film "Iron Sky" for six or seven years, watching them take their project from concept art to fully-realized scenes and eventually to a feature-length film. It's been a long and winding road, but now with a U.S. distributor lined up, they're prepared to unleash their truly bizarre cult film on the unsuspecting world.
"Iron Sky" imagines that at the end of World War II, remnants of the Third Reich packed up and moved to the dark side of the moon, totally unbeknownst to the Allied powers. Now, roughly 70 years later and fully re-armed, the Nazis are planning to invade their home world and pick up where Hitler left off. "Iron Sky" basically picks up there, tracking a group of infiltrators who land their flying saucers in New York City in preparation for the big invasion.
To get the inside scoop, we turned to director Timo Vuorensola, who agreed to record a commentary track for the "Iron Sky" trailer. In his "Call-In Commentary," Vuorensola outlines the story for us and introduces us to his main characters, including a Sarah Palin-esque figure that's bound to either amuse or offend. For those wishing to see the film on the big screen, click here and demand that it be shown in your area.
video player loading
.
.
.
MORE CALL-IN COMMENTARIES:
– Watch the "Nitro Circus: The Movie 3D" trailer with director Gregg Godfrey
– Watch "The Imposter" trailer with director Bart Layton
– Watch the "Seeking a Friend for the End of the World" trailer with writer-director Lorene Scafaria
– Watch the "Dark Horse" trailer with writer-director Todd Solondz
– Watch the "Snow White and the Huntsman" trailer with director Rupert Sanders
– Watch the "Bernie" trailer with writer-director Richard Linklater
View more Call-In Commentaries…
Will you be checking out "Iron Sky"? Let us know in the comments below, or on Facebook or Twitter.