"God of War" screenwriters tease "The Dark Knight" influences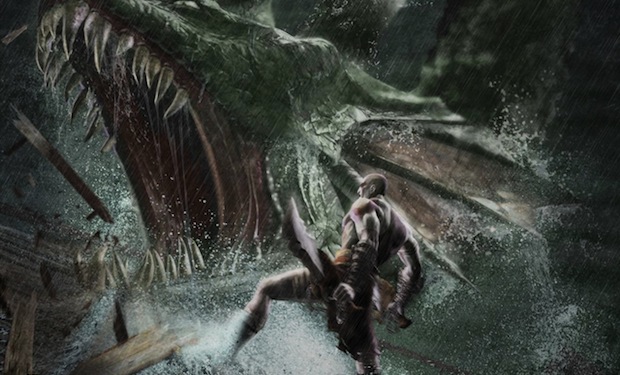 Posted by Terri Schwartz on
It was a bit of a surprising turn when Sony turned to "Saw" writers Patrick Melton and Marcus Dunstan to revamp their "God of War" movie, but it turns out the three might be a better match than we initially thought.
IGN recently caught up with the screenwriting duo, who finished a polish job on Guillermo del Toro's "Pacific Rim" before heading off to fix David Self's original "God of War" screenplay. That one has been sitting on the shelf for a while now, so Dunstan and Melton said they sort of had to rework the script from the ground up.
"The only problem with that [script] is it was written before 'Clash of the Titans,' 'Wrath of the Titans,' '300' and 'Immortals,' and those movies borrowed quite a bit from the 'God of War' stories," Dustan said. "It was just a little bit outdated, so we wanted to differentiate it from those other movies."
In revamping the project, they turned to another series that has since come out: Christopher Nolan's "The Dark Knight" trilogy.
"In the same way that Batman was grounded with Christopher Nolan's rendition, we were attempting to do that with Kratos so that when we meet him — like they're doing in this newest game, which is sort of a prequel to the original — we're seeing him before he became the Ghost of Sparta, when he was just a Spartan warrior and he had family and kids," Dustan said of humanizing the character.
Melton went on to give a more in-depth answer about how that concept will fit into the movie's plot. "In the game… there's that attack from the barbarians and Kratos has to call upon Ares to help him. Really, that's going to be our first act break," he said. "Before then, he's going to be mortal, and he's going to have his family. We're going to learn about him and understand how he operates. So it's potentially 30 minutes — give or take — of building up this character so that, when he does turn and becomes the Ghost of Sparta, we understand him as a human and we understand the journey that he's going to take."
He added, "We're emotionally invested, so that it could go beyond just this one movie."
It's no surprise that the plan is to turn "God of War" into a franchise. If it's worked for the games, why not the movies? That's why the studio asked Dunstan and Melton to really sell us on Kratos before he goes on to become the Ghost of Sparta. But that's also why they're going to have to sell audiences a bit more on Ares as a villain.
"In the game, you know, he's immortal, and he doesn't really do much besides raid Athens," Melton said. "So we're trying to build him up a bit more, too, so that he can become a true villain."
"God of War" currently is without a director, so no word yet on when we can expect it to begin production or hit theaters.
What do you think of Dunstan and Melton's plans for "God of War"? Tell us in the comments section below or on Facebook and Twitter.