Frank Langella calls Skeletor "one of my very favorite parts"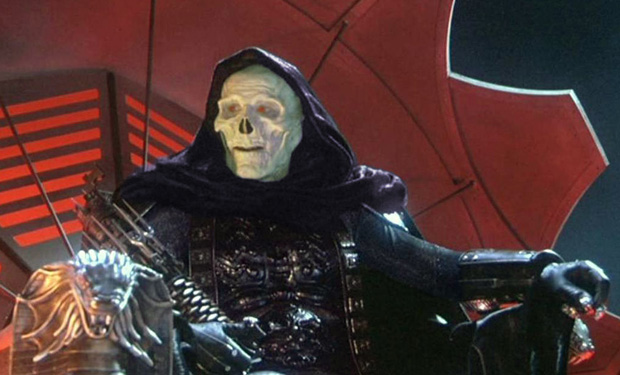 Posted by Rick Marshall on
In his new film, "Robot & Frank," award-winning actor Frank Langella plays a former thief whose advancing age has eroded his ability to keep track of the years and take care of himself. His son buys him a robot caretaker (the film is set in the "near future" where such things are common), and after some initial friction, he develops a bond with the robot that has the pair embarking on a brand new heist.
The movie is the latest of many dramatic roles that have established the Oscar-nominated actor as one of the industry's most talented, respected actors, and it is already generating some awards-friendly buzz on the festival circuit.
However, decades before "Robot & Frank" and his memorable turn as Richard Nixon in 2008's "Frost/Nixon," Langella played a fictional but no less sinister character in 1987's silly live-action "Masters of the Universe" movie. Starring opposite musclebound Swedish actor Dolph Lundgren, Langella played the aptly named, skeleton-faced villain Skeletor, whose plan to conquer the universe is derailed by He-Man, his powerful allies, and a bunch of plucky kids from Earth (including Courteney Cox). The film ends with a short, post-credits scene that has Skeletor rising from the depths of the pit he was cast into and announcing, "I will be back!"
While interviewing Langella about "Robot & Frank," I couldn't help asking him about his role as He-Man's mortal enemy, as the film provided my very first introduction to the actor — a situation that clearly wasn't unusual, given the actor's quick response to my awkward segue from talk of senile dementia to discussion of Skeletor.
video player loading
.
.
.
As I explained that I wanted to ask him about the first role I ever saw him in, Langella spoke up before I finished my question.
"Skeletor?" he asked.
Given all of his dramatic roles over the years in historical dramas, thought-provoking science-fiction films, and various other movie and television projects that have showcased his talents, I asked him whether he ever looks back on playing Skeletor and, well… chuckles a bit at the relative silliness of it all.
"Never," said Langella, who remained just as serious and professional as ever while describing his time playing He-Man's skeletal foe.
"It's one of my very favorite parts," he continued. "I played him because my son was four years old and walked around with a sword yelling, 'I [have] the power!' And he loved, loved, loved Skeletor."
"I didn't even blink [when I was offered the role]," he explained. "I couldn't wait to play him."
And since Langella seemed so comfortable discussing his time as the bane of Eternia, I decided to push my luck and ask the all-important question on everyone's minds that only he can answer…
Who's more evil: Richard Nixon or Skeletor?
"Either one is fine by me," he answered, barely cracking a smile.
And there you have it, folks. Keep an eye on IFC.com for more from our "Robot & Frank" interview with Langella and actress Susan Sarandon.
"Robot & Frank" will hit theaters in limited release August 17, and in wide release August 24. The film stars Frank Langella, Susan Sarandon, James Marsden, and Liv Tyler. It's directed by Jake Schreier.