Fox willing to let "Daredevil" return to Marvel to keep "Fantastic Four"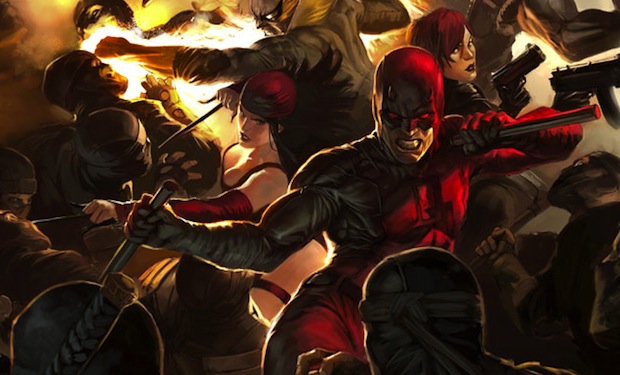 Posted by Terri Schwartz on
It turns out that Marvel might not be getting any "Fantastic Four" characters back any time soon after all.
Let's backtrack a bit. Yesterday Variety posted a report saying that "The Grey" director Joe Carnahan is being eyed to direct Fox's planned "Daredevil" reboot, though the studio has to get the flick shooting before October 10 before the rights to the comic book character revert back to Marvel. The trade explained that a deal could be put in place that allows Fox to have more time with the character if the studio lends Marvel the rights to the "Fantastic Four" universe — namely Galactus and the Silver Surfer.
It sounded like a good deal to us, but Fox isn't having it. Now Deadline is reporting that insiders at Fox are denying that any swapping of characters will be taking place. In fact, Deadline describes Fox as being "lukewarm" about rebooting the franchise, and would rather let Disney and Marvel get the rights to Daredevil back than have to share Fantastic Four characters. There is the option of Disney co-financing Carnahan's take on "Daredevil," but yesterday Variety said his version is a "Frank Miller-esque, hardcore 70s thriller," which isn't quite Disney's shtick.
While we would love to see Galactus pop up in the Marvel cinematic universe, it really doesn't make sense for Fox to trade off any "Fantastic Four" characters. Josh Trank is already on hand to reboot that franchise, while "Daredevil" has been stuck in the mud for years now. Either way, it seems like Marvel is going to be getting something back. It seems doubtful that Fox will be able to get "Daredevil" off the ground in the next two months, meaning Marvel will at least return him to the fold. And who knows, maybe several years down the road the studio can end up getting "Fantastic Four" back as well, giving Marvel enough time to sneak Galactus into the Marvel Cinematic Universe: Phase Three.
Would you rather Marvel had control over Daredevil or the Fantastic Four? Tell us in the comments section below or on Facebook and Twitter.