Five favorite moments from "Monty Python: Live at the Hollywood Bowl"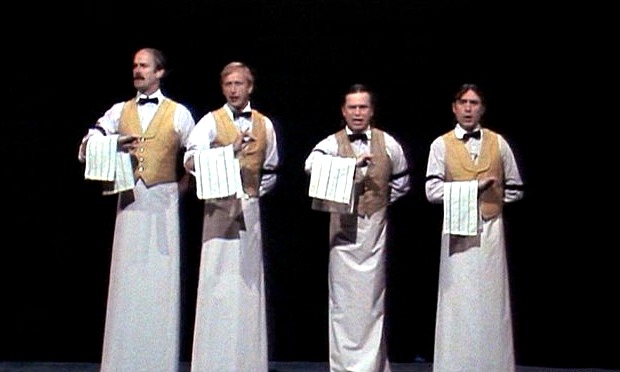 Posted by Melissa Locker on
Monty Python is a staple here at IFC. Because not only is it one of the most influential comedy programs ever created, but it never stops being laugh-out-loud funny no matter how many times you watch their zany sketches. And we have tested that theory time and time again. As much as we love The Whitest Kids U'Know and the Kids in the Hall, we know that they probably wouldn't have existed without the lasting influence of Terry Gilliam, Terry Jones, Eric Idle, Michael Palin, Graham Chapman and John Cleese.
Monty Python's Flying Circus hit the BBC in 1969. It was smart and silly, cutting edge and obscene and changed the rules for television comedy. The team behind the show managed to use their OxBridge university educations to make their laughs erudite yet accessible, and most important, funny. The Pythons went on to make now-classic comedy films, including The Meaning of Life, Monty Python and the Holy Grail, Life of Brian, and, of course, Monty Python: Almost the Truth (The Lawyer's Cut). Now they are dominating Broadway with their musical comedy Spamalot. But the biggest sign of the greatness of Monty Python, is that the sketches are STILL hilarious, thirty years on.
Here are five of our all time favorite sketches from "Monty Python: Live at the Hollywood Bowl", which, by the way, airs Saturday at 3:45 p.m. ET in a mini-marathon of laughs:
The Ministry of Silly Walks
The Argument Clinic
"The Philosopher's Song"
and, of course, "Sit On My Face" [slightly NSFW]
Want the latest news from IFC? Like us on Facebook and follow us on Twitter @ifctv.
"Monty Python: Live at the Hollywood Bowl" airs on IFC on Saturday at 3:45 p.m. ET; Friday, Sept. 21 at 6:45 AM ET; Friday, Sept. 21 at 4:15 PM ET; Wednesday, Sept. 26 at 10:15 AM ET; Wednesday, Sept. 26 at 4:15 PM ET