Exclusive Premiere: The Making of Metric's "Synthetica"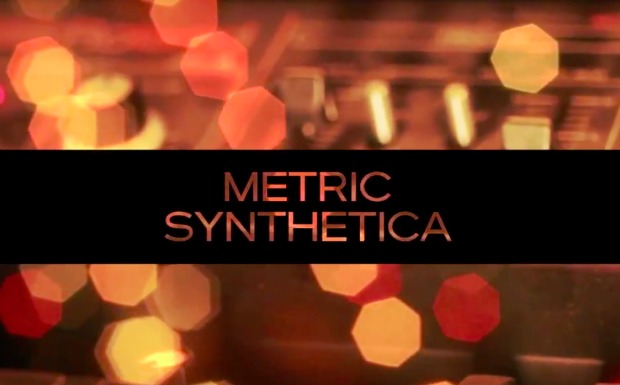 Posted by Melissa Locker on
Metric has always done things their own way. Instead of signing with a label, the Toronto-based quartet comprised of Emily Haines, Jimmy Shaw, bassist Joshua Winstead and drummer Joules Scott Key made their own, Metric Music International. The band hasn't let the lack of traditional label support impede their drive to success. Rather their song, "Help I'm Alive", became the first single to hit commercial radio's Top 20 in the U.S. without the backing of a traditional label. They repeated that feat in 2009 with the infectiously fun "Gold Guns Girls."
For all their radio success, Metric has also made some serious in-roads into Hollywood. Not only did they contribute to the soundtracks for "Scott Pilgrim vs The World" and the "Twilight Saga: Eclipse," but now they teamed up with composer Howard Shore to score David Cronenberg's latest film "Cosmopolis."
Now to celebrate their fifth full-length studio album, Synthetica, Metric is showing their fans the nitty-gritty of making a record. Check out the first episode here, which introduces the series, and the second episode here to see the band hash out their album. In the third installment of the mini making-of documentary, we go behind-the-scenes of the band's lyric-writing process. Turns out Emily Haines organizes her lyrics the way many of our moms organized meatloaf recipes. Luckily for Metric's fans, Haines' system creates far more desirable results than those mystery meats.
Watch the episode below and see for yourself:
Want the latest news from IFC? Like us on Facebook and follow us on Twitter @ifctv.