Exclusive Premiere: Early Morning Rebel "Find An Easier Way"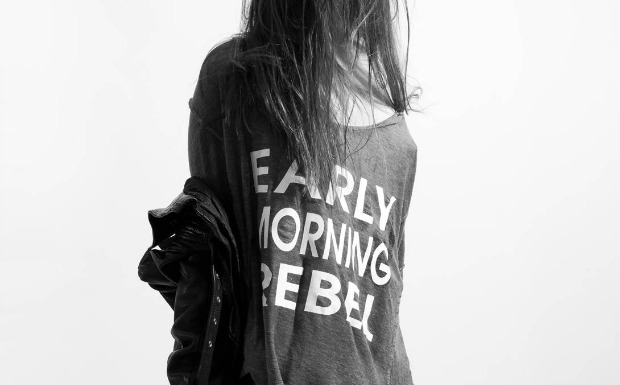 Posted by Melissa Locker on
Early Morning Rebel hasn't been a band for that long. In fact, in their current iteration the group has only been together for a year, but this doesn't mean that they lack any of the spit and polish of bands that have been together a lot longer. In fact, Early Morning Rebel has enough shine on them to teach their elders a thing or two about how to make it in the music industry.
The band was formed by high school best friends vocalist Nathan Blumenfeld-Jones and guitarist Dustin Bath who decided to merge their love of music with their other loves: art and fashion. They used their connections (and their gumption) to immerse themselves in the fashion world. "We really wanted to create a community with designers and artists and filmmakers and photographer and to really collaborate with them with the intention of creating music and inspire other artists and have art inspire our work," Blumenfeld-James told CBS News.
Once the fashion world deemed them cool, their rapid-fire rise to success was practically guaranteed. Soon Early Morning Rebel found their song "Lifeboat" being used on "Grey's Anatomy" and now a full-length album and tour are in the works.
Despite their musical success, the band hasn't lost any of their love for art and fashion. To that end, the band makes their own music videos, including the one we are premiering today. "We produce, direct and edit all of our videos. Putting a visual to the music is a process we enjoy almost as much as creating the music. The basic plot of this video is a guy losing a girl and fighting to get her back. Not being able to let that person go. We shot the video in Venice, Ca, where we are from. We wanted to use imagery and aesthetic of our native Los Angeles," Blumenfeld-James told us via email. The video is the perfect reflection of the story behind the song. "Originally, when I wrote that song, it was about finding an easier way to deal with the fact that I can't let this girl, this person, go. It's a pretty quintessential love song. It's a heartbreak song at the end of the day where I'm holding on to this thing that I'm not going to be able to let go, " Nathan Blumenfeld-Jones told the Huffington Post. Nothing like being lovelorn to inspire a song.
Watch Early Morning Rebel "Find An Easier Way":
Want the latest news from IFC? Like us on Facebook and follow us on Twitter@ifctv.