Eddie Izzard is killer in Bullet in the Face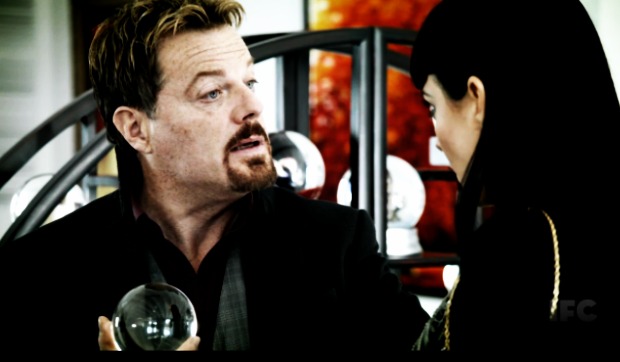 Posted by Melissa Locker on
Eddie Izzard's character in Bullet in the Face is nothing if not a, well, character. The crime lord he portrays, Tannhauser, is a walking paradox: violent, ill-tempered, crass, and crude while also coming across as sophisticated, well-mannered, debonair and polished. Tannhauser also has impeccable comedic timing, especially for a crime lord waging a bloody war with his rival, Racken (Eric Roberts). But else would you expect from Eddie Izzard? The man is laugh-out-loud funny (have you seen his stand up?) and deadly serious (look no further than his performances in "Valkyrie" and The Riches to prove that point). He's also an accomplished actor who imbues each role he undertakes with understated brilliance and subtle charisma, crafting characters who are wildly believable. That serves him well when he's starring in, say, David Mamet's Race, but when he's playing a crime lord who may be a few sandwiches short of a picnic, it's down right terrifying.
Watch this clip and see the quiet terror of Tannhauser in action. Then be sure to tune in to the Bullet in the Face two night event when it kicks off on August 16th at 10/9c:
video player loading
.
.
.
Want the latest news from IFC? Like us on Facebook and follow us on Twitter@ifctv.
Bullet in the Face two night event premieres on IFC on August 16 and 17th at 10/9c