Why is David Cross wearing a sheet on the set of "Arrested Development"?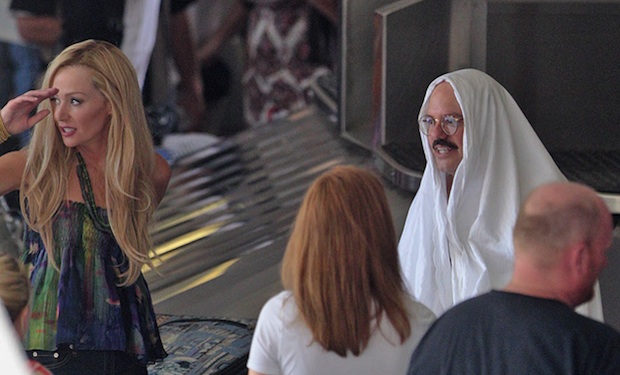 Posted by Terri Schwartz on
Like clockwork, even more pictures from the set of "Arrested Development" have hit the web. Except this batch was taken a bit more professionally.
Buzzfeed has acquired an array of paparazzi photos showing the "Arrested Development" crew filming in an airport. In addition to leading man Jason Bateman, the scene also seems to include Portia de Rossi, David Cross and the entire cast of "Workaholics."
De Rossi's Lindsay Fünke looks as annoyed as ever at her husband Tobias, played by Cross. But what we're most intrigued by in these images is the fact that Tobias is wearing a white sheet draped over him. Maybe he has become such a big celebrity in the years since season three wrapped that he needs to disguise himself when walking through public places? Or maybe he just blue himself.
What's really interesting, though, is the fact that de Rossi and Cross are even in this episode. When "Arrested Development" began filming Tuesday, we learned that each of the 10 episodes of the fourth season will follow a different member of the Bluth clan. Since the first episode is called "Michael," we assumed that meant it would be about him only. Apparently not though, since here we see his sister and brother-in-law in the same location we found him in yesterday.
It is exciting that all four major cast members from Comedy Central's "Workaholics" are in at least the first episode as well, as one extra's tweet shows us. Apparently creator Mitch Hurwitz had such a fun time on the set of "Workaholics" recently that he decided Blake Anderson, Adam DeVine, Anders Holm and Erik Griffin deserved a spot on "Arretsed Development's" long-anticipated return as well.
Are you glad that all these set photos from "Arrested Development" are making their way online, or would you rather everything be kept a surprise? Tell us in the comments section below or on Facebook and Twitter.