David Cronenberg on "Cosmopolis," Robert Pattinson, and why it's necessary to "betray the book"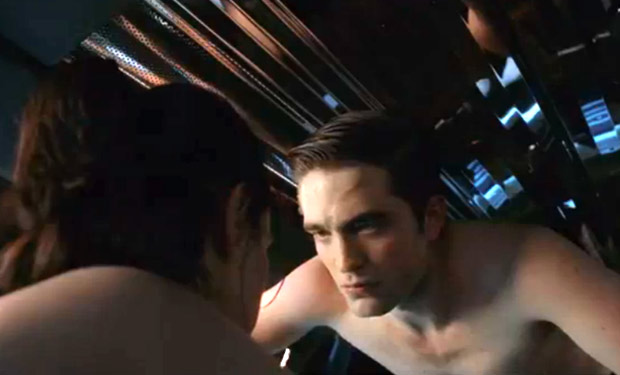 Posted by Rick Marshall on
"Cosmopolis" hits theaters this weekend, bringing director David Cronenberg's unique vision to Don DeLillo's 2003 novel about a 28-year-old billionaire whose mid-day trek across Manhattan in a tricked-out limo quickly becomes a surreal, philosophical exploration of the relationship between money, power, and society.
Starring in the film is "Twilight" alum Robert Pattinson, who plays the icy Eric Parker, a young man with a lot of money and a single-minded urge to get a haircut across town. His adventure is waylaid by random sexual trysts, cold meetings with his new wife, a massive protest filled with rat-flinging anarchists, and a pair of mysterious "threats" that keep his security detail on high alert.
IFC spoke with Cronenberg about the new film and his approach to adaptations, and got the scoop on a pair of projects he worked on that will probably never make it to theaters, but are interesting all the same.
IFC: You've made so many films over the years based on books, what was it about this particular story that jumped out at you?
DAVID CRONENBERG: I was immediately struck by the dialogue [in DiDeLillo's book]. It was familiar to me because Don's dialogue is very distinctive. I think of him in the same terms as I think of David Mamet or Harold Pinter — that is to say, it's the way people speak, but it's also very stylized. That produces an interesting tension and rhythm. But those two guys are dramatists, and you hear their dialogue spoken often on stage and in movies, whereas Don is a novelist. You don't hear his dialogue spoken ever, because he hasn't had a movie made out of one of his books before.
IFC: Does that raise the level of difficulty in making a movie like this?
CRONENBERG: No, not at all. I'm really thinking of that in retrospect now. I wasn't thinking so much about that at the time. What I was thinking was, I would love to hear that dialogue spoken by some really terrific actors. I think it would be really intriguing and interesting and compelling. That was the hook for me. It wasn't the theme of the story or anything like that. I like the restriction of one street, one limo, one day, because I don't shy away from that and rather like it, but I think it was the dialogue first and foremost that was the hook. And the dialogue in the movie is 100-percent from the book.
IFC: You mentioned wanting to see great actors speak the dialogue, and the movie is filled with them. But I'm curious about Robert Pattinson, who's still a young actor and doesn't have nearly as much experience as some of the supporting cast, but has a massive following. When you have a project like this, do you do more tailoring of the script to fit his strengths, or more work with him to match his abilities and talents to the material?
CRONENBERG: For all the actors, you don't really know what you're going to get. Except for some auditions that a few actors did for certain roles, I never heard the dialogue spoken until we were shooting. With Rob in particular, I never heard that particular dialogue spoken until we were shooting. You go into filming with confidence that you have the right guy, but you don't know exactly what's going to happen. There's a very organic thing that goes on in "Cosmopolis" that's very spontaneous, because until Robert's sitting in the limo with the actual actor opposite him who he's playing the scene with — and there are so many different actors who come in and out of that limo — he doesn't know how he's going to react, because he's not acting in a vacuum. He's reacting to the other actor. . . . For example, the very first scene we shot was in the limo with Jay Baruchel. Rob was shocked by how Jay was playing it, because he was playing it with so much emotion and vulnerability, and Rob had never anticipated that. So he had to react to that. That's the excitement of the movie: you mix all of these things that are potent and good, but you don't really know what you're going to get from that.
IFC: It's sort of like cooking…
CRONENBERG: [Laughs] Yes, it is. It's like cooking a meal you've never made before.
IFC: You've done so many adaptations over the years, and many of them have differed significantly from their source material, but were great movies all the same. How do you balance the need to stay faithful to the source material against the need to make a good, original, interesting movie?
CRONENBERG: I learned very quickly when I did "The Dead Zone," my first adaptation, that you have to betray the book in order to be faithful to the book. The reason for that is that the two media are really different. Literature and cinema, they are not the same. They are related, and they might seem to be closer together than they are, but when you're really working in both of the fields, you can see they're tremendously different. To take the most obvious example, even a bad novelist can do a convincing inner monologue where you're in the person's head and he's walking down the street and thinking about his mistress and his bank account, and so on. You can't do that in a movie. The usual failure is that you resort to a voiceover, where someone is reading the novel to you like a kid at bedtime. To me, that's an admission of failure. You couldn't find the cinematic translation or equivalent or whatever. You have to be brutal. When there's something you know won't work, you have to get rid of it or rethink it or reconfigure it. That's what the key is: recognizing the differences of cinema and what its strengths are and weakeness are, and coming to grips with that.
IFC: On the subject of changes form the source material, I'm going to get into spoiler territory here for a moment and ask you about the end of the movie and how it differs from the book. The movie leaves things more uncertain than the book, it seems…
CRONENBERG: It's hard to discuss without spoilers, but it would've been very easy to put a gunshot on the soundtrack and you would know that Eric was murdered. And in the book you know that he's murdered, or at least if you believe Benno, he's been murdered — but that's the thing, because Benno is not exactly a trustworthy narrator. In the book there is still some scope for uncertainty as to Eric's fate, but as we were shooting that last scene, I loved that these two guys were frozen in that last moment — almost frozen in an eternity of uncertainty. They're bound together. They're locked together in this sort of archetypal moment. I thought the moment should be eternal.
IFC: I can picture you going, "And cut it right… there!"
CRONENBERG: [Laughs] Basically, yeah. So it was more like that than a dramatic thing. It wasn't like, "Oh, I can't stand to have this character killed," or "Rob's fans won't like it if I shoot Robert," or anything like that. I wasn't worry about that stuff. It was really spontaneous. As I mentioned, we could've easily made it clear that he's killed, cutting to black with the sound of a gunshot.
IFC: One of your other projects that's been im the news lately is "Eastern Promises." There's been some indication that a sequel might happen…
CRONENBERG: That's dead, so it's not worth discussing it other than to say that was something I really wanted to do and was looking forward to doing, but it's not going to happen.
IFC: The remake of "Total Recall" was released recently, and while I was doing some research on it, I was surprised to learn about the version of the film that you were planning to make with William Hurt that pre-dated Paul Verhoeven's film. I'd love to know what your take on "Total Recall" would've been like…
CRONENBERG: I haven't seen the new one, so i can't say anything about that. But I'm a big Philip K. Dick fan, and the difference [in what I was planning to make] was that I wanted to cast William Hurt and they cast Arnold Schwarzenegger. That's the difference.
IFC: That's… that's a pretty big difference.
CRONENBERG: That's really the difference.
IFC: So what's next for you after "Cosmopolis"?
CRONENBERG: At the moment, because "Eastern Promises 2" collapsed, I really don't have anything that's remotely close to being green-lit. There are projects, maybe, but nothing that's close enough to discuss other than the novel I have to finish by the end of the year. It's been sold to a lot of countries, but I haven't finished it yet. So that's what I'm going to do: I'm going to be a novelist for the rest of the year.
IFC: That's not a bad plan to have.
CRONENBERG: No, it's not too bad at all.
"Cosmopolis" hits theaters August 17.