Craig Zobel on "Compliance" controversy, nudity, and real life inspiration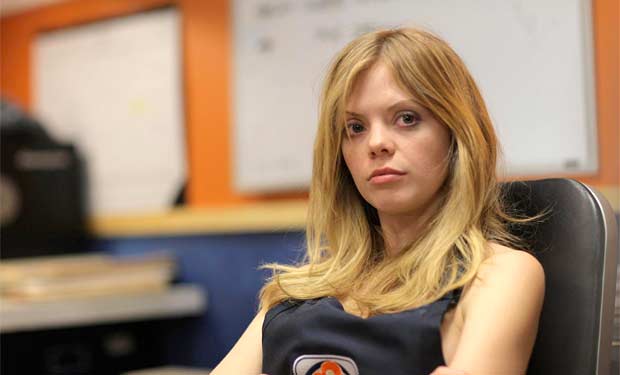 Posted by Jennifer Vineyard on
A man calls a harried fast food manager, identifies himself as a police officer, and tells her that he has a witness that one of her employees has stolen from a customer – could she help with the investigation until he can get there? Hoping to get this resolved quickly, she complies – even when he asks her to detain, search, and then strip-search the teenage employee. Threatened with arrest, the teenager complies with increasingly bizarre requests from the disembodied voice on the phone – including doing nude jumping jacks to "dislodge" anything hidden within her body's orifices, bending over to be spanked, and performing a sexual act for one of the males guarding her. Only when one of the male employees objects to the proceedings does the caller hang up, because the whole thing was one elaborate prank to see how far they would go.
Not only is that the plot of "Compliance," a disturbing and controversial film out this week, but it's also what roughly happened in 70 real-life cases at rural fast food joints across the country, with some variances. The film is claustrophobic, keeping the viewer for the most part in the same room as the trapped teenager, Becky (played by Dreama Walker), who is humiliated and put on display with only a skimpy apron to clothe herself, if that, when her belongings and clothing are taken away. Needless to say, she's innocent of the charges, but her protests fall on deaf ears, since her manager Sandra (played by Ann Dowd) accepts the supposed officer's accusations (which also escalate) as fact without any proof. Beyond the gullibility vs. obedience issue raised by most critics, the situation also begs the question – does no one know their rights?
"Not that I made this film for an advocacy reason, but if people learned their Miranda rights from this, I would feel like we did a good thing," director Craig Zobel told IFC. "It should be apparent that it's against the law for anyone who is not a police officer to conduct a strip search, at least in this country, at least right now. You would think if people had seen enough episodes of 'Law & Order' that they would know that."
A season nine episode of "Law & Order: Special Victims Unit" even tackled the real life cases, with Robin Williams playing a prank phone caller who called himself "Detective Milgram," in reference to the Milgram experiment which tested how people respond to obey authority – the very experiment which influenced Zobel's take on "Compliance."
"The specter of a cop is a powerful thing," he said. "It gives people pause. People were scared enough by the idea of police that they didn't question it. They don't want to say the wrong thing. They don't want to get into more trouble."
Some participants, as the Milgram experiment and the Stanford Prison experiment demonstrated, were either thrilled or relieved to be able to transfer responsibility for their actions to an authority figure who asked them to and gave them permission to inflict pain or humiliation. "Milgram's experiment was about taking responsibility," Zobel said. "He was basically saying, 'Look, this is my deal. Your only role in this is to do your duty and do what I say.' The thing I can't wrap my head around is how few people questioned that. Maybe some of it had to do with the closed space, feeling away from the world, that this wasn't real, and no one would know."
Because part of the prank/crime in "Compliance" involves Becky stripping and performing oral sex as a punishment, Walker ends up spending much of her screen time in a compromised position. Critics who saw the film at a Sundance screening called it misogynist and exploitative, especially because Walker is not unattractive.
"I hoped I shot it in a way that was not sexy," Zobel countered. "Her nudity should have gravity to it. Should I have cast someone who was less attractive? What does that say about what you think about rape? Do you think only attractive or unattractive people get targeted for sexual assault? Is rape about sex to you? Or is it about power? This is about abuse of power.
In the end, Louise Ogborn, the person whose situation most resembles what Becky goes through during the course of "Compliance," was awarded millions in punitive and compensatory damages. Walter Nix, her "guard" who committed the sexual abuse, went to prison. The man accused of ordering him to do so, David Stewart, was found not guilty – but there were no more reported hoax calls of this kind after his arrest.