Colin Farrell and Sam Rockwell steal Shih Tzus in the "Seven Psychopaths" trailer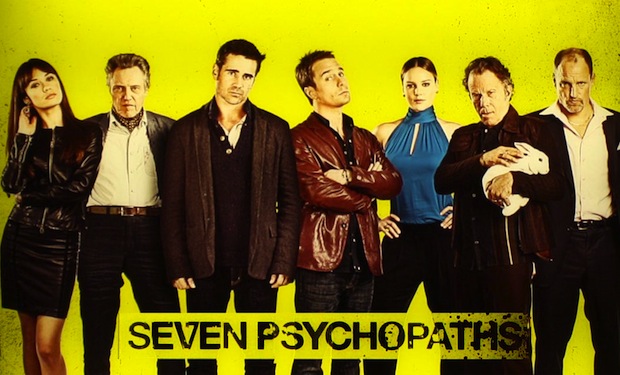 Posted by Terri Schwartz on
When Martin McDonagh released his 2008 feature film debut "In Bruges," we were blown away. It looks like his sophomore project "Seven Psychopaths," which reteams him with "In Bruges" leading man Colin Farrell, will be an appropriate follow-up to the promise shown in his first movie.
"Seven Psychopaths" looks to be much more of a straight comedy than "In Bruges" was, which ended up having its darkness overshadow its witty writing. In this project, McDonagh travels from Bruges to Los Angeles where he tells the story of a struggling writer and his dognapping friends who accidentally steal the wrong man's Shih Tzu.
McDonagh acquired quite the cast for himself in "In Bruges" (Farrell, Brendan Gleeson, Ralph Fiennes and Jordan Prentice), but he's really outdone himself this time around. The seven psychopaths in "Seven Psychopaths" are played by Farrell, Sam Rockwell, Woody Harrelson, Tom Waits, Christopher Walken, Abbie Cornish and Olga Kurylenko. If there was ever a group of people we wanted to see act together in an intelligent film, it's this one.
Despite the performances that we're assuming will be great from the film's stars, it looks like "Seven Psychopaths" will be carried by its writing. McDonagh has already won an Oscar for his short film "Six Shooter" and was nominated for Best Original Screenplay with "In Bruges," so it's no shock that the script for "Seven Psychopaths" is incredibly strong. We're just happy that he found actors who could pull off his style of storytelling so well.
Here's the official synopsis of "Seven Psychopaths," courtesy of CBS Films:
An alcoholic screenwriter (Colin Farrell) struggling to write a serial-killer script gets more real-life inspiration than he can handle when a dognapping scheme gone awry brings a galaxy of crazies to his doorstep. A top-notch cult-movie cast — including Christopher Walken, Sam Rockwell, Woody Harrelson, Tom Waits, Harry Dean Stanton-anchors this wacky, blood-spattered commentary on the psycho-killer thriller from the writer-director of In Bruges.
The film is due in theaters on October 12.
What did you think of the "Seven Psychopaths" trailer? Tell us in the comments section below or on Facebook and Twitter.