"Catching Fire" officially casts Sam Claflin as Finnick Odair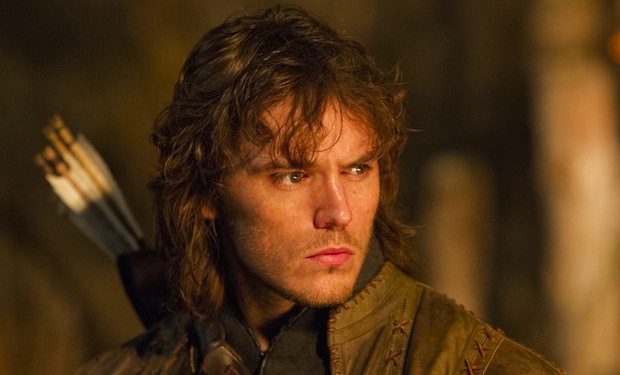 Posted by Terri Schwartz on
At long last, one of the biggest new roles in "Catching Fire" has been filled. It was reported a month ago that "Snow White and the Huntsman" star Sam Claflin was in talks for the part of Finnick Odair in "The Hunger Games" sequel, and today Lionsgate has finally confirmed his involvement.
Finnick is one of the most important characters to be introduced in "Catching Fire" and continues to play a significant part of "Mockingjay," which will be split into two films. The character won the Hunger Games at age 14 for District 4, and is called in again to fight in the Quarter Quell alongside Katniss Everdeen. He and the "Hunger Games" heroine become quick allies, and he becomes one of the story's central characters going through the rest of the series.
This is some big news for Claflin, who has landed other supporting roles in major franchises as well. He's best known as Phillip, or That Guy Who Sort Of Replaced Orlando Bloom, in "Pirates of the Caribbean: On Stranger Tides," and as William, or That Guy Who's Not Chris Hemsworth, in "Snow White and the Huntsman." Hopefully Claflin will have a chance to shine as Finnick, though he will have Josh Hutcherson's Peeta and Liam Hemsworth's Gale to compete against for screentime.
With this Finnick casting, the new actors needed for "Catching Fire" seem to have mostly been brought on board. As a quick recap, here's everyone new who's been cast in "Catching Fire" so far: Philip Seymour Hoffman as Plutarch Heavensbee, Jena Malone as Joahanna Mason, Amanda Plummer as Wiress, Lynn Cohen as Mags, Meta Golding as Enobaria, Bruno Gunn as Brutus, Alan Ritchson as Gloss and Patrick St. Esprit as Romulus Thread. We're still waiting to find out if Tony Shalhoub will play Beetee.
"Catching Fire" is due in theaters on November 22, 2013.
Do you think Claflin will play a good Finnick? Tell us in the comments section below or on Facebook and Twitter.