"Catching Fire" casting marathon continues with Alan Ritchson as Gloss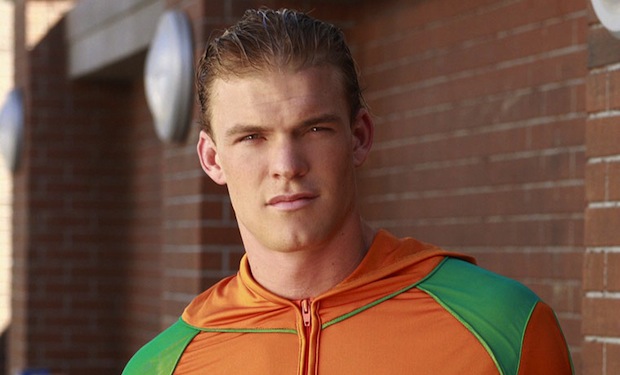 Posted by Terri Schwartz on
The "Catching Fire" casting streak continues. Today Lionsgate announced that Alan Ritchson has landed the role of Gloss in the upcoming sequel to "The Hunger Games."
Gloss and his sister Cashmere were two career tributes from District 1 who were chosen to compete in the Quarter Quell, the event that "Catching Fire" centers around. Gloss is an enemy of Katniss, though they both do rebel against the Capitol by joining hands with the rest of the Quarter Quell tributes in a show of strength. Like his sister, Enobaria and Brutus (both of whom were also cast this week), Gloss becomes a part of the Career pack who faces off against Katniss and her allies in the 75th Hunger Games.
Ritchson is best known for his TV work on shows like "Blue Mountain State" and "Smallville," where he played Aquaman. He certainly has the looks to play pretty boy Gloss considering he started off his career as a model for Abercrombie and Fitch.
It seems clear from the recent string of casting announcements that the majority of the big name actors who are joining "Catching Fire" have already been announced. Cashmere, Twill and the rest of the characters yet to have actors assigned to them will likely be played by lesser known stars in order to keep the cast of this film under control. We still have hope that the man who lands the role of Finnick Odair will be someone who we can geek out over, though.
As a quick recap, here's everyone new who's been cast in "Catching Fire" so far: Philip Seymour Hoffman as Plutarch Heavensbee, Jena Malone as Joahanna Mason, Amanda Plummer as Wiress, Lynn Cohen as Mags, Meta Golding as Enobaria, Bruno Gunn as Brutus and Patrick St. Esprit as Romulus Thread. In addition, there are rumors that Tony Shalhoub will play Beetee and Sam Claflin will play Finnick, though neither is confirmed.
"Catching Fire" is due in theaters on November 22, 2013.
Do you think Ritchson is a good fit for the role? Tell us in the comments section below or on Facebook and Twitter.