See bloody Chloe Moretz in new "Carrie" images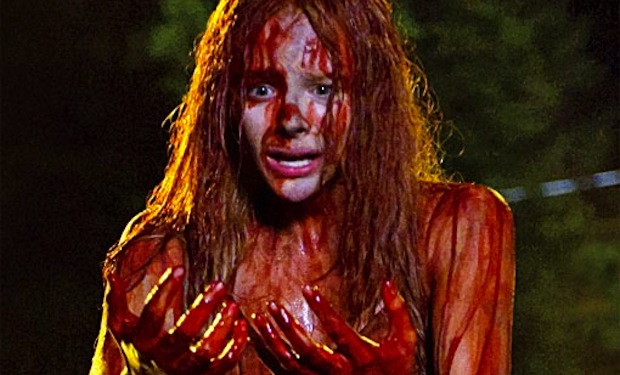 Posted by Terri Schwartz on
It's been months since we first heard about Kimberly Peirce's planned remake of "Carrie," and now we're finally getting our first look at some of the most iconic scenes in the film.
Entertainment Weekly has released two new images from the movie, including one of Chloe Moretz as Carrie standing in her white prom dress fully doused in blood. Considering the fact that this is the image that comes to mind when "Carrie" is mentioned, we're a bit surprised that it was released more than six months before the movie is set to hit theaters. At least it proves that Moretz looks as perfect in the role as we had hoped she would.
"We only have, like, four chances to get it right because that stuff stains your hair," Moretz said of filming the famous blood-drenching scene.
EW also premiered a similarly terrifying picture of Moore, looking dazed in her white nightgown and wielding a knife. Moore is playing Carrie's mother Margaret, who was famously portrayed by Piper Laurie in 1976 version of the movie. She abuses the titular character both physically and mentally, and is best known for speaking the iconic line, "They're all going to laugh at you!" But Moore is planning to make the character slightly more relatable than her previous incarnation.
"This woman has clearly had a psychotic break, perhaps several," Moore said. "But what's sad about it for me is that she's clearly sick and here's this poor child in the thrall of this person who is seriously ill. And on top of that, they have this mother-daughter relationship. So we want to make that relationship as meaningful as possible, even though it is horrible and destructive."
"Carrie" hits theaters March 13, 2013.
What do you think of this remake of "Carrie"? Tell us in the comments section below or on Facebook and Twitter.