Bullet Vision: Watch "Rambo" and "Cop Land" tonight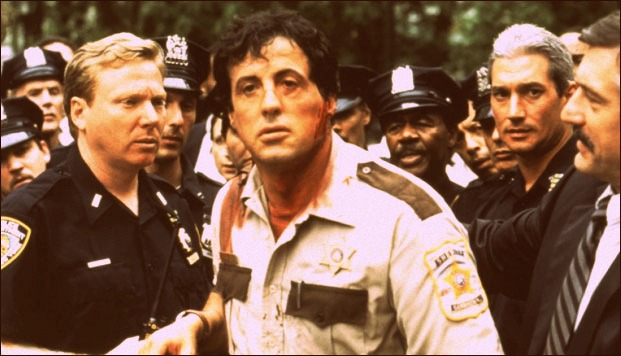 Posted by Melissa Locker on
Tonight on IFC we kick off a week-long extravaganza of the best in bullet-fueled action movies as we amp up to the two-night event of our brand new mini-series Bullet in the Face, which premieres on August 16th at 10 p.m. ET. The show which sprang from the mind of Sledge Hammer! creator Alan Spencer stars Max Williams as Gunter Vogler a sociopathic criminal-turned-cop stuck in between two warring crime lords played by Eddie Izzard and Eric Roberts. It's a viciously funny, hilarious and violent show that is airing over two nights from August 16-17th.
What better way to welcome the show to our channel than with a red carpet of thrillers where the bullets fly, the language is foul, and violence is absolutely required? While you know that we know comedy, as you can tell by our shows Portlandia, Comedy Bang! Bang! and Bunk, but we also know a thing or two about action. To prove that, we are starting our action-packed week off right with a Sylvester Stallone double feature of "Rambo" and "Cop Land" beginning at 8/7c. Then all this week, look for Bullet Vision features such as "Fight Club" and "Sin City" all leading up to Bullet in the Face on August 16th at 10/9c.
Here's the trailer for "Cop Land," where Sly Stallone plays a seemingly dull-witted sheriff who surprises the NYPD institution when he starts working with an Internal Affairs officer (Robert De Niro) to solve a suspicious suicide. The film also stars Harvey Keitel, Ray Liotta and Michael Rapaport as cops covering up a crime.
Here's one of the best scenes from "Rambo," just in case you need a reminder of how incredibly kick ass this movie is before you tune in at 8 p.m. ET:
Want the latest news from IFC? Like us on Facebook and follow us on Twitter@ifctv.
"Copland" airs on IFC tonight at 9:45 p.m. ET; Tuesday, Aug. 14 at 1:00 a.m. ET; and Monday, Aug. 27 at 12:45 a.m. ET