"Bill & Ted 3" gains "Galaxy Quest" director, Keanu Reeves and Alex Winter attached to star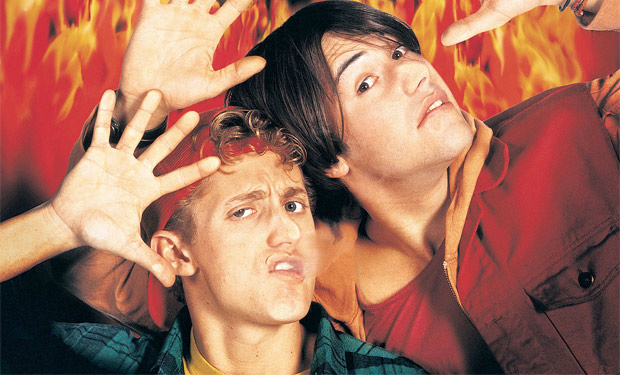 Posted by Terri Schwartz on
Not only are Keanu Reeves and Alex Winter reportedly attached to star in the new "Bill & Ted" movie, but its finally found itself a director.
Vulture has learned that "Bill & Ted" creators Ed Solomon and Chris Matheson have tapped "Galaxy Quest" director Dean Parisot to helm the project. That's not the best news for those of you out there hoping we'd get "Bill & Ted 3" within the next few years, as he first has to follow through on his directing commitment to "Red 2." That movie is slated to begin filming next spring.
But at least we're going to actually get "Bill & Ted 3." The script was greenlit back in March, but we haven't heard much about the project since. At the time, Reeves had said, "We have a script. We're trying to put it together. It's a good script, too."
Based on what Vulture reports, the new movie will be based on an idea conceived by Solomon and Matheson that "would address where Mssrs. Ted Theodore Logan and Bill S. Preston, Esq. are in their lives today as opposed to being a reboot or remake." The plan is to make it a comedy around the size of "Hot Tub Time Machine."
MGM currently has the rights to "Bill & Ted," so it's unclear where the movie will finally end up. Vulture reports that the project is being shopped to other studios for co-financing. Hopefully that issue doesn't end up being a major drawback in the long run.
Are you glad that Winter and Reeves are attached to star in this sequel? Do you think that Parisot is a good pick for a director? Tell us in the comments section below or on Facebook and Twitter.