Tim Grierson on Giving "Battleship" a Second Chance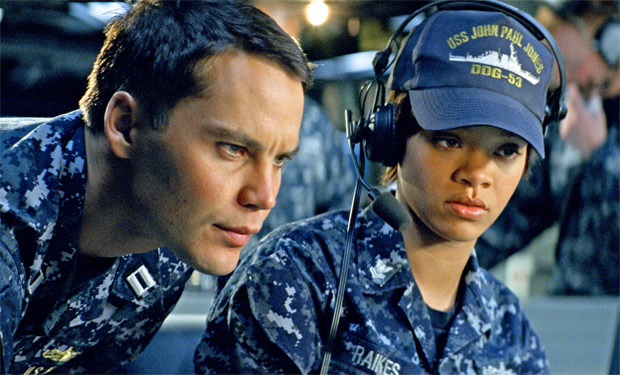 Posted by Tim Grierson on
Summer movie season is drawing to a close — which, depending on who you are, may be cause for sadness or celebration. After months of explosions, sequels, guys in tights, life-or-death stakes, reboots, and yelled dialogue, it's understandable that you may want a little time to yourself in a quiet room reading a book. But as we prepare to shift into Hollywood's awards season, I'd like to stick up for one of this summer's louder, more action-packed entries, which is arriving on DVD on Tuesday. It's "Battleship," and I think it's better than you may have heard.
Opening on May 18, a couple weeks after "The Avengers," "Battleship" was met with rather savage reviews and, more importantly for Universal, a collective disinterest from the moviegoing public. (It ended up bringing in about $65 million, which was less than "Contraband" or "Act of Valor," two films with much lower budgets.) Although the film performed much better overseas — taking in almost $238 million — "Battleship" was labeled a flop, star Taylor Kitsch's second in the span of about two months. (It's worth pointing out, though, that the much-derided "John Carter" actually made more money in the U.S. than "Battleship" did.)
There are plenty of perfectly sensible objections to "Battleship." It's a wannabe Michael Bay film. It's another rah-rah shoot-'em-up. It's based on a board game, except with a lot more aliens and Rihanna. But although "Battleship" certainly represents much of what is tired about summer movie season, I can't think of a recent big-spectacle film that was this fun. It doesn't have the depth or pathos of a "Dark Knight Rises" or the sharp wit of a "Men in Black 3," but where other aspiring blockbusters plod along in a joyless march to their soulless finale, "Battleship" almost has a spring in its step. It's a shame more summer juggernauts don't.
The film, which was directed by Peter Berg, stars Kitsch as the stereotypically immature action hero. He plays naval officer Hopper, a charming screw-up who needs to take responsibility for his life. Thankfully — and right on cue — that moment presents itself when the Navy conducts a training exercise just as freakin' aliens show up to destroy all of humanity! Any further explanation of the plot might as well be accompanied by more italics and exclamation marks, but suffice it to say that Hooper has to rise up and be the big hero, rallying his naval buddies to defeat these seemingly indestructible foes.
But while the setup definitely enters Bay territory, what's appealing about "Battleship" is that, at least in spirit, it's somewhat closer to the hard-edged action movies of the recently departed Tony Scott. Though a wizard of spectacle, Scott often did his best work (like in "Enemy of the State," "Crimson Tide" and "Unstoppable") when he managed to find the right balance between likeably plucky characters and compelling action sequences. "Battleship" suffers from some of the same clunky "funny" repartee that drags down other bloated summer movies, but in Kitsch, Berg has found an entertainingly unassuming action hero who wears his stardom lightly. It's a small but important distinction: Kitsch is playful without being jokey in "Battleship," recognizing the absurdity of it all but at the same time inviting the audience to savor the silliness rather than cluing us in to mock it. Scott's movies had more flair and originality than "Battleship" possesses, but that same "Hey, going to the movies should be a blast" attitude permeates Berg's film.
"Battleship" may not be magnificent, but it's refreshingly good in a way that modern-day action movies tend not to be. Beneath the film's explosions and yelled dialogue, the movie moves along at a steady pace with a breeziness that suggests that, really, the possible eradication of Earth by aliens isn't something to be worried about. It's just a plot device, and we should simply sit back and enjoy the battle between humans and extra-terrestrials as the escapist fun that it is. As Hollywood movies have gotten more and more expensive, increasingly intense commercial expectations have been thrust upon them. But rather than delivering more excitement and pleasure as a result, contemporary blockbusters tend to feel self-conscious and anxious, so desperate to entertain that there's no sense of confidence or swagger. "Battleship" was clearly made to produce boatloads of money, but Berg and Kitsch don't break a sweat worrying over the details. Neither should you — you can switch off your brain while watching "Battleship" and not feel like an idiot for doing so.