Ashton Kutcher looks especially Steve Jobs-like in new "jOBS" set photos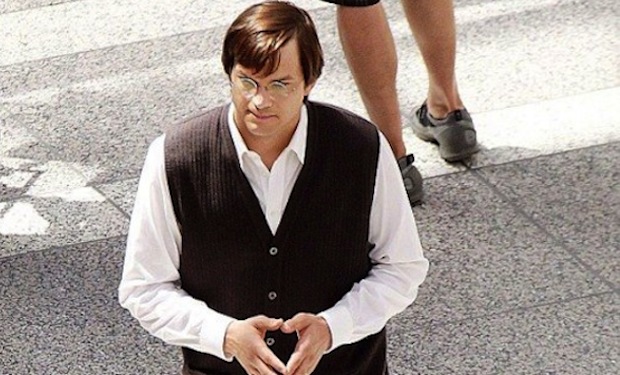 Posted by Terri Schwartz on
It's been more than two months since we last saw photos from the set of "jOBS" and, in case you were concerned, Ashton Kutcher still looks spot-on as the late great Apple co-founder. In these new photos, we see that the "Two and a Half Men" star can pull off an older Steve Jobs as successfully as he did a younger one.
The images come at us courtesy of X17 (via /Film) and show Kutcher walking around set. But looks will only get the former "That 70's Show" star so far. As the movie has been filming since May and there are still many who are on the fence about it, we're really interested in seeing some sort of teaser trailer for the project.
According to the plot synopsis for the film, "jOBS" covers 40 years of Jobs' life and "tells an intensely character-driven story that is as much a sweeping epic as it is a personal tale. An ultimately inspiring story, 'JOBS' pulls no punches and does not speculate, only telling the truthful real life events as seen through his eyes, emotions, and ingenuity." "Swing Vote's" Joshua Michael Stern directs it.
Meanwhile there's still the Aaron Sorkin-scripted Steve Jobs project being developed by Sony. We wouldn't be surprised if we started finding out much more about that project soon now that we're seeing more and more of "jOBS."
What do you think of these new images of Kutcher as Jobs? Tell us in the comments section below or on Facebook and Twitter.