Adapt This: "The Cape" by Joe Hill, Jason Ciaramella, and Zach Howard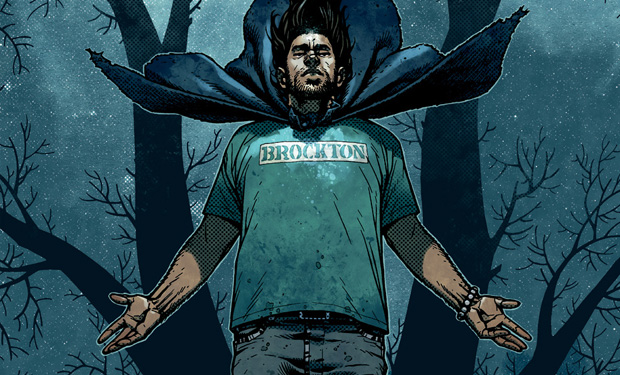 Posted by Rick Marshall on
With Hollywood turning more of its attention to the world of graphic novels for inspiration, I'll cast the spotlight on a cool comic book each week that has the potential to pack a theater or keep you glued to your television screens. At the end of some "Adapt This" columns, you'll also find thoughts from various comic creators and other industry experts about the books they'd like to see make the jump from page to screen.
---
This Week's Book: The Cape by Joe Hill, Jason Ciaramella, and Zach Howard
The Premise: When a basement-dwelling slacker discovers that his favorite childhood memento gives him powerful abilities, his life is changed forever… but is it a change for the better? This dark comic based on Joe Hill's short story explores the terrible outcome when great power is given to someone who feels no responsibility whatsoever to use it in a positive way.
The Pitch: In many ways, The Cape is more of a horror story than your typical super-power tale, and that's what makes it stand out as great adaptation material. It's a mix of "Chronicle" and "Stand By Me" that plumbs the depths of darker fare like "Henry: Portrait of a Serial Killer," and turns the classic superhero tale on its head by telling its story from the villain's perspective.
There's a good reason why the original one-shot comic based on Hill's story was nominated for an Eisner Award, one of the most prestigious awards in the comic-book industry, and a good adaptation of The Cape could receive a similar welcome from audiences and critics alike. Filmmakers like Christopher Nolan have primed mainstream movie fans for grittier stories that temper fantastic elements with realistic, flawed characters whose decisions reflect their damaged personalities. And that's exactly the sort of main character Hill gives us in Eric, a man-child who lives in his mother's basement and blames the world for his failures. His supporting cast is similarly scarred, and in some ways, it's their faults that determine their destiny.
A big-screen adaptation of The Cape would probably be best served by a director willing to put the fantastic elements of the story second to the slow-building character development that will make the shocking (and occasionally disturbing) twists and turns pay off both narratively and emotionally. Give this adaptation room to breathe and the amazing set pieces in the source material will generate even greater cinematic magic on the screen.
Casting Suggestions: The most important character to cast in an adaptation of The Cape is Eric, the scruffy slacker whose social and emotional regression first leads to his mother's basement, and then to the discovery that his childhood cape lets him fly through the air.
Someone like Matt Jones already embodies many of Eric's traits in the character he plays in "Breaking Bad," Badger, and a film like this might be a good test of his leading-man potential. He's a gamble, sure, but there are a few other actors that come to mind for a role like this, too.
It's easy to see some of the darker elements of Eric's personality in the role Ryan Hurst plays on "Sons of Anarchy," and it would be interesting to see him take those elements down a darker path instead of the more heroic, redemptive journey his character is taking on the series now. Similarly, Tyler Labine of "Reaper" and "Tucker & Dale vs. Evil" has made a career out of playing lovable slackers, so a chance to play a character that the audience can't root for no matter how hard they try might provide a nice stretch for the up-and-coming actor.
---
Would "The Cape" make a good movie? Chime in below or on Facebook or Twitter.