Adapt This: "Justice League: Origin" by Geoff Johns and Jim Lee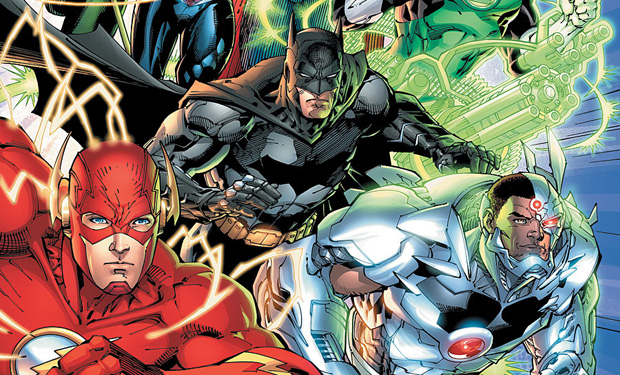 Posted by Rick Marshall on
With Hollywood turning more of its attention to the world of graphic novels for inspiration, I'll cast the spotlight on a cool comic book each week that has the potential to pack a theater or keep you glued to your television screens. At the end of some "Adapt This" columns, you'll also find thoughts from various comic creators and other industry experts about the books they'd like to see make the jump from page to screen.
---
This Week's Book: Justice League: Origin by Geoff Johns and Jim Lee
The Premise: In a world that's getting its first introduction to super-powered, costumed heroes and villains, a cosmic threat forces Batman to team up with Superman, Green Lantern, Wonder Woman, and various other superheroes to save Earth. With a live-action "Justice League" movie on the way, the first adventure of DC's premiere super-team in the rebooted "New 52" universe offers a great blueprint for the big screen that simultaneously introduces the characters to new audiences and tests the limits of what the seven heroes are capable of — both individually and united against a common threat.
The Pitch: When DC decided to relaunch its entire universe, the need to begin with a strong foundation for its most famous team of superheroes was clear — and it's easy to see that the potential for a big-screen adventure wasn't far from the publishers' minds, either. Geoff Johns and Jim Lee have crafted an impressive origin story for the Justice League that feels like it could make an easy transition from page to screen.
The first story arc of the new Justice League series assumes some familiarity with the characters who make up the team but still offers a bit of context for their place in the world — something a live-action movie would do well to mimic. On top of that, the story also illustrates the particular set of skills each character brings to the group and why "a guy dressed like a bat" can be just as important as the Man of Steel when the chips are down. In this way, Justice League: Origin simultaneously introduces the characters to a newcomers and establishes how they relate to each other, covering two of the biggest requirements for a live-action, superhero team-up movie.
While the story in Justice League: Origin follows the standard team-up formula, having the individual heroes fight amongst each other before eventually teaming up to take on the big bad guy they can't defeat individually, "The Avengers" proved that you don't need an overly-complex plot to make a good superhero team-up movie. If you cast the characters well, then you can put them in a scene together and watch the sparks fly. With Origin, there's a compelling narrative that manages to give all of the heroes equal time while also splitting them up in various groupings to show how different characters play off each other (similar to what was done in "The Avengers" so well).
Probably the biggest obstacle in bringing Justice League: Origin to the screen is the villain used in the arc: Darkseid. One of DC's most lethal villains from the cosmic side of the publisher's universe, Darkseid is significantly more alien than anything we've seen in Christopher Nolan's Batman movies or any of the Superman movies made thus far, for that matter. In fact, the most closest we've got to something vaguely Darkseid-like in recent, prominent comic book movies are the Frost Giants that appeared in "Thor," with their massive, intimidating profiles and noticeably non-human appearance. The Superman-themed television series "Smallville" encountered this very same problem when it tried to bring Darkseid to the screen in its final season, and ended up turning the character into a red-eyed smoke monster. Most fans will probably agree that this isn't the way to go with Darkseid, so a live-action "Justice League" movie will need to find the balance between a computer-generated character and practical acting. (Maybe some motion-capture work, perhaps?)
Casting Suggestions: It's a no-brainer to suggest "Man of Steel" actor Henry Cavill as the Superman of "Justice League," but what about the rest of the team? "Haywire" actress and mixed martial arts fighter Gina Carano could make for an interesting take on Wonder Woman, with a physicality that's quite a bit more believable than some waifish actress tossing bad guys through a wall.
Warner Bros. would certainly win points from the "Doctor Who" crowd for casting "Torchwood" actor John Barrowman as Bruce Wayne/Batman, but the need to skew a bit younger could make someone like "Sons of Anarchy" actor Charlie Hunnam a good pick for the role. His ability to channel the Dark Knight's brooding intensity could make him a pleasant surprise in the role, though all of this probably depends on whether Joseph Gordon-Levitt wants to don the cape and cowl.
As for the Flash and Green Lantern, "Friday Night Lights" actor Scott Porter continues to be a good match for the Barry Allen version of the Scarlet Speedster (he's been the subject of a fan campaign for a while now), while the studio would likely want to continue with Ryan Reynolds as Hal Jordan. If WB opts to recast the role, why not go with someone like "White Collar" star Matthew Bomer (who coincidentally was set to play Superman before Bryan Singer jumped onboard "Superman Returns"). And while we're at it, let's go meta and cast Adrian Grenier as Aquaman so he has the chance to bridge the gap between his "Entourage" character's career and his real-world career.
Finally, putting Anthony Mackie in the role of Cyborg will give the project a serious, dramatic actor with the chops to make Victor Stone's tragic condition a source of genuine angst.
---
Would "Justice League: Origin" make a good movie? Chime in below or on Facebook or Twitter.