Adapt This: "Incognito" by Ed Brubaker and Sean Phillips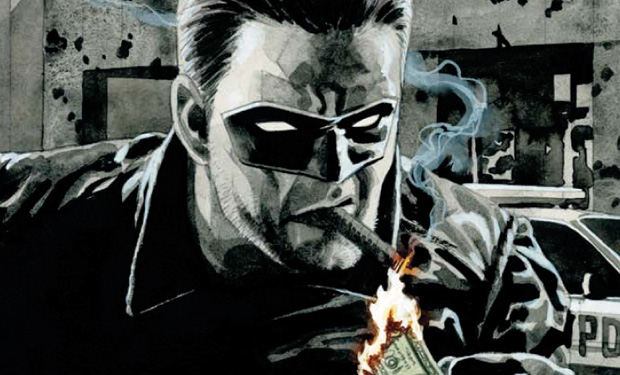 Posted by Rick Marshall on
With Hollywood turning more of its attention to the world of graphic novels for inspiration, I'll cast the spotlight on a cool comic book each week that has the potential to pack a theater or keep you glued to your television screens. At the end of some "Adapt This" columns, you'll also find thoughts from various comic creators and other industry experts about the books they'd like to see make the jump from page to screen.
---
This Week's Book: Incognito by Ed Brubaker & Sean Phillips (Icon)
The Premise: Zack Overkill is a former supervillain living a heavily restricted, low-key life in witness protection after testifying against the world's most dangerous kingpin of the "science villain" community. When he discovers that his powers are no longer being dampened by the government-issued drugs he's required to take, he begins moonlighting as a superhero. But how long until his secret is discovered? And who will discover it first, the good guys or the bad guys?
The Pitch: After being optioned by 20th Century Fox way back in April 2010, there's been little news on the "Incognito" movie front since October 2010. (In fact, it looks as if I was the last the person to get an update from Brubaker on the adaptation.) And since it seems criminal for a great story like this to languish in development hell, consider this another nudge to bring Brubaker and Phillips' gritty story of supervillain redemption to the big screen.
Like much of Brubaker's work, Incognito's noir-fueled storytelling environment lends itself well to adaptation, as audiences have embraced the notion of darker, grittier superhero stories set in a world not too different from our own. While the world of Incognito is no stranger to super-powered heroes and villains, they still operate on the fringes of public awareness and their clashes are often covered up by the government and media. People wearing capes and masks in public are more likely to be off their meds or institution-bound rather than stopping muggers or robbing banks.
In many ways, the world of Incognito is only a slightly more colorful version of Christopher Nolan's Gotham, filled with bleak, gray buildings and shadowy alleys. And like the world Nolan created around his version of Batman, the addition of super-powered humans and bright costumes feels intensely foreign, making their rare appearances — and inevitable, explosive brawls — that much more thrilling. Much like the modern Batman franchise, Incognito offers a nice chance to focus on the story's characters, but also provide some impressive, wildly destructive set pieces to pepper throughout the film.
That's not to say that an "Incognito" movie would just be retreading well-worn ground, however.
An adaptation of Incognito would set itself apart from other "dark" comic book movies by giving the audience a main character that no one wants to root for at the start of the film. To put it bluntly, Zack Overkill is a scumbag at heart, and his initial decision to go the heroic route has nothing to do with noble aspirations. Still, given the right combination of screenwriter, director, and lead actor, Zack's evolution from deplorable jerk to cheer-worthy hero could make for one of the most memorable character arcs we've seen on the big screen.
Casting Suggestions: When I spoke with Brubaker back in October 2010, he mentioned Leonardo DiCaprio and "Star Trek" star Chris Pine as actors likely to bring out the best in Zack Overkill, but it's also easy to see someone like "The Dark Knight Rises" actor Tom Hardy doing well with the role. With liberal sampling of his performances in movies like "Inception" and "Bronson," it's not too hard to see the smug, self-possessed traits of Zack Overkill take shape.
There's also a case to be made for Jon Hamm in the role, given that the world of Incognito feels tonally similar to the smokey, classically stylish universe inhabited by Hamm's character in "Mad Men." If the adaptation were to skew younger, someone like "The Social Network" actor Armie Hammer, who's set to star in "The Lone Ranger," could also provide a nice mix of tall, dark, and other noir-friendly attributes.
---
Would "Incognito" make a good movie? Chime in below or on Facebook or Twitter.