The 10 weirdest Batman moments that Christopher Nolan can't erase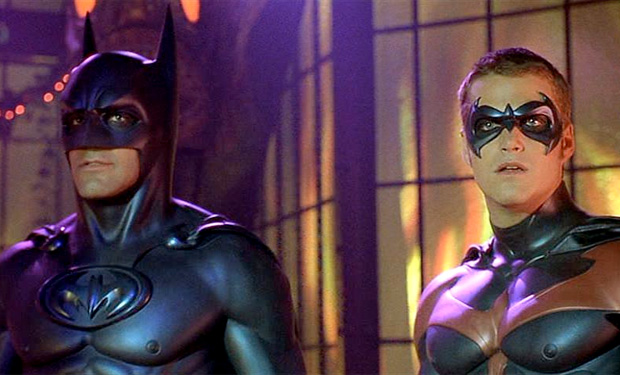 Posted by Rick Marshall on
"The Dark Knight Rises" has solidified Christopher Nolan's legacy as one of the greatest filmmakers to bring Batman to the big screen, but let's be honest: over the last 50 years, Gotham's protector has had more than a few moments that are memorable for all the wrong reasons.
With that in mind – and to temper all of that grim-and-gritty stuff in current trilogy – here are 10 of the strangest moments from Batman's live-action adventures that Nolan's films will never be able to wipe from our collective memory.
---
The Batusi
No other moment encapsulates the camp and silly fun of the 1960s "Batman" television series like the sight of Adam West putting a Batman twist on the hottest go-go dance of the time, the Watusi. First glimpsed during the series' premiere in 1966, the "Batusi" went on to become a go-go fad of its own, and has become a cultural touchstone of sorts for those familiar with Batman's light-hearted television years. It's a scene that will live forever in the hearts of the series' fans, and live in infamy among those who prefer their Dark Knight a little, well… darker.
---
That time when the Batmobile drove up a wall
Not only did Joel Schumacher completely redesign the Batmobile in 1995's "Batman Forever" and leave it looking like, well – let's just say it made some people blush – but he also added a long list of new features to the Dark Knight's wheels. Among those features was the ability to drive up walls. Go ahead and read that again, just in case it didn't sink in. The car drove up walls. We're not just talking about steep inclines here, people – we're talking about vertical walls. And it was just as ridiculous as it sounds.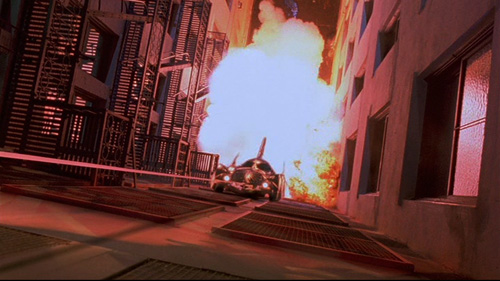 ---
Bat-Suits! Now with more nipples!
One can't help wondering what former Batman actors Val Kilmer ("Batman Forever") and George Clooney ("Batman & Robin") think of Christian Bale's military-style spin on the Batman costume. Sure, Bale gets a bad-ass suit of kevlar, but those two (as well as Chris O'Donnell's Robin and Alicia Silverstone's Batgirl) got costumes with… wait for it… nipples!
Those were truly dark days for the Batman family. Never forget!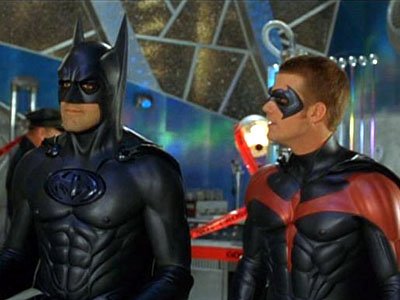 ---
"I'll get drive-thru."
When the Batman franchise changed hands from Tim Burton to Joel Schumacher, no one knew what to expect from the new guy behind the camera. We got our first indication, though, when an otherwise impressive opening sequence in in 1995's "Batman Forever" was punctuated by Alfred (Michael Gough) asking Batman (Val Kilmer) if he can be persuaded to take a sandwich with him. Batman's responds with "I'll get drive-thu" as he steps into the Batmobile. "Uh-oh," said every single Batman fan in the world.
In the absence of an actual clip from the "Batman Forever" sequence, here's the McDonald's commercial that ended up repurposing the scene:
---
Poodles love the Remote-Control Batarang
Among all the ridiculous gadgets to appear in the 1990s Batman franchise, the remote-control batarang from "Batman Returns" is one of the most memorable – if only because its fatal flaw was that it could be thwarted by a house pet. Not only did this piece of weaponry from Batman's workshop look like it was cobbled together from an old video-game controller, but its brief appearance in the film ends with the batarang being ripped out of the air by a poodle. Back to the drawing board, Batman!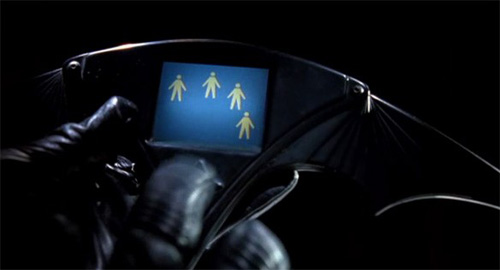 ---
Joker dancing to Prince
Nothing says Batman like a funky Prince jam. That was the case in 1989, at least, and while it's hard to imagine anyone in Christopher Nolan's Bat-verse getting funky to the musical stylings of the man who gave us "Raspberry Beret," Jack Nicholson's Joker pulled it off quite impressively. No matter how grim and gritty Nolan makes Gotham, we'll always have the image of Nicholson in the Joker's trademark purple-and-green suit, skipping around a museum and causing all sorts of wonderful havoc.
---
Shark-Repellent Bat Spray
Batman's ability to always have the right tool for every situation was never more apparent than in a scene from the 1966 feature-length film based on the campy television series. While hovering over the ocean from the bottom of a rope ladder, Batman is attacked by a shark. After discovering that a few well-placed punches to the underbelly and fins don't seem to have the desired effect, Batman politely requests that Robin deliver the "Shark Repellent Bat Spray" they conveniently brought along in the Batcopter. Robin makes his way down the ladder, then inexplicably decides to hang upside down from one of the rungs before handing off the bottle to Batman.
Yes, all of this happened. And once you see it, you can never un-see it.
---
Every line Arnold Schwarzenegger says in "Batman & Robin"
When Arnold Schwarzenegger was cast as Mr. Freeze in 1997's franchise-ending "Batman & Robin," we knew now to expect a complicated, nuance-laden performance. But no one expected that his entire role would consist of a series of one-liners that reference his character's temperature-based theme. From "I'm afraid my condition has left me cold to your pleas of mercy" to "You're not sending me to the cooler," it became apparent early in the film that Mr' Freeze's ice gun wasn't the scariest weapon in his arsenal. His terrible puns cut far, far deeper.
---
Batman has his own credit card?
Hypnotized by Poison Ivy's pheromone powder, Batman and Robin compete in a bidding war for the company of the plant-whispering villain played by Uma Thurman. Batman has the last word when he whips out his Batman-themed "GothCard" credit card ("Good Thru Forever"). "Never leave the cave without it," he remarks, prompting Batman fans all over the world to throw their televisions out the window.
---
"Chicks love the car."
Oh, Batman – you're such a smooth-talker. Wait, what? In one of the most infamous scenes from 1995's "Batman Forever," it would appear that Batman (Val Kilmer) forgets that it's his alter ego who's supposed to chasing women and not the guy wearing the cape and cowl. After psychologist Chase Meridian (Nicole Kidman) hits on Batman with the alluring line, "A girl can't live on psychosis alone," the Dark Knight replies with the oh-so-smooth line, "It's the car, right? Chicks love the car."
Seriously.
What is your favorite weird Batman moment? Tell us in the comments below or on Facebook and Twitter.