Hollywood's most unlikely alien-invasion heroes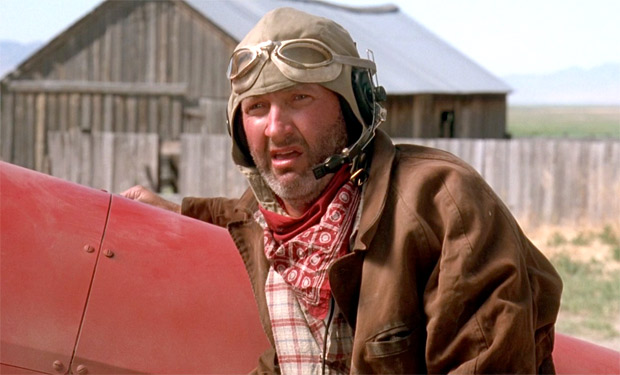 Posted by Rick Marshall on
Alien invaders have had their way with Earth throughout cinema history, but in most cases, our planet's inhabitants have eventually found a way to fight them off — sometimes in unexpected ways and with very unlikely heroes.
This weekend, "The Watch" pits a ragtag group of Neighborhood Watch volunteers against the first wave of an alien invasion, and the new comedy starring Ben Stiller, Vince Vaughn, Jonah Hill, and Richard Ayoade adds yet another line to the ever-growing list of Earth's most unexpected defenders.
In honor of the latest group of heroes to stand between planetary freedom and destruction at the claws — or perhaps tentacles — of outer-space creatures, here are some of our favorite unlikely alien-fighters to appear on the big screen:
---
Slim Whitman ("Mars Attacks")
In this 1996 film directed by Tim Burton, the world was on the brink of surrender to a race of big-brained, evil aliens who had destroyed the world's greatest landmarks, killed the U.S. President, and exterminated Congress. The planet was theirs for the taking, until a teenager in Kansas discovered their one weakness: country singer Slim Whitman's yodel-fueled classic, "Indian Love Call."
---
A bunch of British street kids ("Attack the Block")
Joe Cornish impressed audiences and critics alike with this 2011 film about a bunch of street kids in South London who are forced to defend their turf from terrifying alien creatures that fall to Earth on Bonfire Night. There's no shortage of films featuring musclebound heroes shooting up aliens with machine guns, but there's nothing quite like seeing this film's reluctant heroes take down these vicious interlopers with fireworks, baseball bats, and even a gasoline-filled squirtgun. (Best line ever: "That ain't no is — it's a was!")
---
Randy Quaid ("Independence Day")
When everything seemed lost and the Earth was on the verge of destruction in Roland Emmerich's 1983 alien-invasion classic, the planet was saved by an alcoholic, semi-sane crop-duster played by Randy Quaid. Not only did he get revenge for all those times aliens abducted and probed him in uncomfortable places (which may or may not have actually happened), but he became the world's greatest hero when he sacrificed himself in a kamikaze run at the alien mothership. If you don't cheer when Quaid screams, "Hello boys, I'm baaaack!" there's a good chance you're dead inside.
---
A sketchy high-school drug dealer ("The Faculty")
When creepy, tentacled, body-snatching aliens invaded Herrington High School in this 1998 film written by Kevin Williamson and directed by Robert Rodriguez, it wasn't the football team or the class president who led the fight against them, it was the creepy drug-dealing kid who's been in his senior year for at least two years now. It might not send a great message to kids, but the film suggests that a homemade, cocaine-like drug being sold by Josh Hartnett's character in the film is the key to defeating the parasitic creatures taking over the town — making the best defense against aliens a good stash of illegal amphetamines.
---
A gigantic woman, a blob, a cockroach, an ape-man, and a giant grub ("Monsters vs. Aliens")
This underrated 2009 animated film features a team of reluctant "monsters" who agree to defend the world against an alien invader in exchange for their freedom from the government agency hiding them from the world. It could be one of the weirdest team-ups in movie history, but it's also one of the most entertaining examples of planetary defense to hit the big screen in the last few years. What's not to love about Seth Rogen, Hugh Laurie, Will Arnett, and Reese Witherspoon hamming it up as the main characters' voices, with Rainn Wilson providing the voice of the alien Gallaxhar?
---
Sorority girls ("Night of the Creeps")
Combining the fear of slimy slug creatures from space with shambling zombie terror, this cult-classic horror from 1986 was directed by "Monster Squad" filmmaker Fred Dekker, and featured a house full of sorority girls fighting off a host of squishy creatures that turn normal people into flesh-hungry, walking corpses. Sure, they have help from tough-as-nails cop Ray Cameron (Tom Atkins) and an aspiring fraternity pledge who's smitten with one of the girls, but it's the sorority girls who really save the world. Of course, first they have to actually realize that their fraternity beaus are literally brain-dead.
---
A girl with a weird water quirk and a failed baseball player ("Signs")
Sure, director M. Night Shyamalan will tell you that the real hero of his 2002 alien-invasion film was the faith of a retired preacher played by Mel Gibson, but let's face it: it took a little girl's weird habit of leaving half-empty glasses of water around the house and a guy with a baseball bat to save the world — or at least, one farmhouse and a family — in this creepy blockbuster. Swing away, indeed.
---
A homeless Rowdy Roddy Piper wearing late-'80s sunglasses ("They Live")
Okay, sure… he's not exactly an unlikely alien fighter given his size and status as one of the most famous professional wrestlers of all time, but his memorable performance in this outstanding 1988 film was anything but predictable. In the film, which was directed by horror legend John Carpenter, Piper plays a homeless drifter who discovers a box of sunglasses that allow him to see the world for what it really is: a place under invasion by ugly, blue-skinned, skeleton-faced aliens who are subliminally forcing humans to buy, procreate, and live by their consumerist directives. He soon decides that the only right thing to do is to chew bubblegum, kick ass, and save the world, of course.
---
Honorable Mention: Ninjas! ("Alien vs. Ninja")
Confession: I only included the heroes of this 2010 Japanese film in the list so I could include a clip of one of the most ridiculous fight scenes in cinema history, featuring a lady ninja going up against an "Alien"-ripoff in a rubber suit, who clearly gets a little handsy with his female opponent.
What are some of your favorite unlikely defenders of Earth? Chime in below or on Facebook or Twitter.