Tim Grierson on the Underrated "The Three Stooges," Now Out on DVD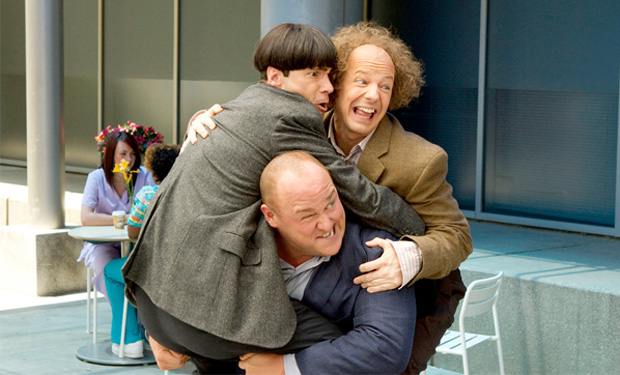 Posted by Tim Grierson on
There's a real art to doing dumb well. Plenty of movies and TV shows aim to stir the soul and touch the heart, but some don't care about any of that: They just want to make you giggle your ass off. Because these types of broad comedies don't have high aspirations, critics sometimes have a tendency to label them guilty pleasures, as if to say sheepishly, "I know I'm not supposed to like this, but I do." But I don't feel guilty at all about my enjoyment of the "Three Stooges" movie that came out earlier this year. It may have been a commercial disappointment, but I can't think of any movie in 2012 that made me laugh as much as this one. It comes out on DVD on Tuesday — give it a shot.
"The Three Stooges," based on the comedy act that started in the mid-'20s, was a movie that directors Peter and Bobby Farrelly have wanted to make for quite some time. In 2009, it looked like the Farrellys had found a high-powered cast for their film: Sean Penn, Jim Carrey and Benicio Del Toro. But over time, all three actors had to drop out, leaving the filmmakers to go with a far-less-starry trio: Sean Hayes as Larry, Will Sasso as Curly, and Chris Diamantopoulos as Moe. There were a lot of risks in going with actors who weren't big names — although Sean Hayes was well known from "Will & Grace" — but so much of what makes the "Three Stooges" film great is thanks to these three. Frankly, it's hard to imagine the movie without them.
Divided into three episodes, "The Three Stooges" doesn't have much of a story — the stooges have to raise a bunch of money for their beloved orphanage, which leads them to be unwitting patsies in a murder plot — but like with a good musical, you're not watching this movie for artful storytelling. No, it's all about the gags, the slapstick, and the utter stupidity, and there is plenty of all three to savor. But to enjoy it, you'll have to hook into this movie's mindset, which is blissfully innocent and sincere. Outside of action movies, there probably hasn't been a more violent film all year than "The Three Stooges," but its constant pokes in the eye and knocks on the head are delivered with a bloodless, giddy sweetness that's inviting rather than repellant. Inspired and tightly choreographed, the stooges' antics have a buzzsaw comic momentum to them that makes you sit back and wonder at the sheer looniness of it all. Like with a musical, "The Three Stooges" is a feast of beautiful movement, except in this case that involves people receiving injuries that, in real life, would leave the individuals with severe brain damage.
The physical demands of these roles are impressive, but the three actors also succeed in evoking their characters' spirit. The original Moe, Larry and Curly — played by Moe Howard, Larry Fine and Curly Howard — are iconic, which could have been intimidating, but the film's stars sidestep the problem by approaching their roles with a lot of love, not to mention a lot of skill. Diamantopoulos, Hayes and Sasso look like their counterparts, but it's their total commitment to the film's cheerful stupidity that really makes their camaraderie shine. In retrospect, these actors were taking an enormous risk diving headfirst into material that's willfully juvenile and totally lacking in any sense of ironic detachment. Like the Farrelly brothers, these actors have to love the stooges' world unabashedly for any of this to work, and it's a credit to everyone involved — including Larry David in a supporting role as a hilariously nagging nun — that the movie's tonal control is so complete. Everybody working on "The Three Stooges" has come together to make one of the stupidest comedies you'll ever see — so stupid you may have a tough time stopping laughing.
Of course, "The Three Stooges" is in a fine tradition of expertly-executed moronic comedies. The filmmaking team of David Zucker, Jim Abrahams and Jerry Zucker made a few great ones in the 1980s, including "Airplane!" and "The Naked Gun." Reviewing "The Naked Gun" in 1988, Roger Ebert described the experience of watching brilliantly stupid comedies better than just about anyone:
You laugh, and then you laugh at yourself for laughing. Some of the jokes are incredibly stupid. Most of them are dumber than dumb. Yet this is not simply a string of one-liners. There is a certain manic logic to the progression of the film.
That's what "The Three Stooges" is like. Sure, there's plenty of stuff that doesn't work in the film. (Don't filmmakers know that one of the reasons I love movies is that they provide me a venue where I don't have to see members of "Jersey Shore"?) But the pure, uncomplicated joy of "The Three Stooges" is not something that's easily replicated. So many films strive for an edgy hipness that the posturing can occasionally be unbearable. By comparison, "The Three Stooges" — despite its repetitive, brutal shenanigans — just wants to give you a big, warm hug. How can you resist?