"The Master" trailer makes its stunning premiere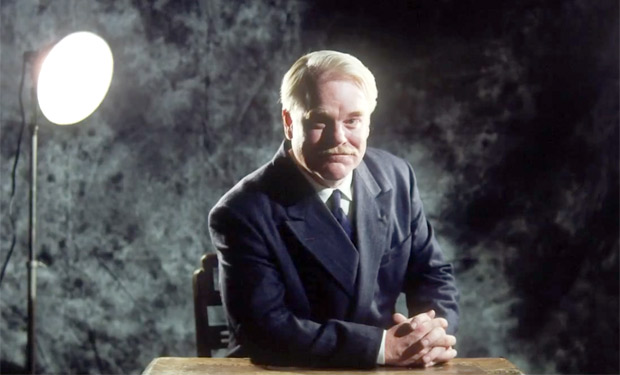 Posted by Terri Schwartz on
Paul Thomas Anderson, our hats are off to you.
The first theatrical trailer for "The Master" was released almost immediately after the movie's poster hit the web, and if the latter was meant to muddy our impression of the project, then this full teaser of Anderson's latest film has cleared everything up. "The Master" looks like it might get career best performances from its three leads — Philip Seymour Hoffman, Joaquin Phoenix and Amy Adams — and also be the most visually and psychologically stimulating project Anderson has made yet.
Finally, we're beginning to see the form of this movie, or at least we're beginning to understand it more than we did from the two previously released teasers. Phoenix's character is unhinged in this movie, and if that is meant to be a direct metaphor to his real-life (allegedly fake) meltdown, then it's great. Let's call "I'm Still Here" a great trial run for a Paul Thomas Anderson film. But every scene in this trailer that shows Phoenix going up against Hoffman's titular master is charged and fantastic, and it looks like both actors are back on top of their game.
"The Master" tells the story of a man known as "the Master" (Philip Seymour Hoffman) who creates a set of religious beliefs along the lines of Scientology or Mormonism and watches as it catches on in America. Joaquin Phoenix plays a soldier who has trouble settling into his life until he meets the Master, and then finds his sense of purpose and becomes his right-hand man. All is well until he begins questioning his decision to do so. It's believed that "The Master" tells a fictionalized version of the creation of Scientology.
Also starring Laura Dern, Jesse Plemons and Rami Malek, "The Master" is set to hit theaters in limited release on October 12.
What did you think of this trailer for "The Master"? Tell us in the comments section below or on Facebook and Twitter.