"The Hunger Games" special features clip shows the Girl on Fire running from flames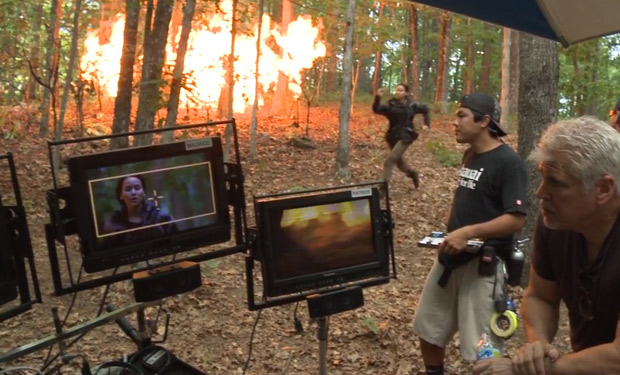 Posted by Brian Jacks on
One of the key scenes in "The Hunger Games" is Katniss Everdeen (Jennifer Lawrence) escaping from a wall of flames that the gamemasters had set for her, in order to spice up live television with some potential third-degree burns. At Comic-Con yesterday, Lionsgate unveiled a clip from the upcoming DVD/Blu-ray special features that explains just how that sequence was accomplished. Spoiler alert: it required a lot of planning.
Framed by interviews with director Gary Ross, their stunt coordinator and Lawrence herself, the clip shows the methodical nature of the scene, as the crew set up a particular path for their leading lady to run down. With fireballs being flung past her head and explosions seemingly all over the place, it was a dangerous yet carefully choreographed moment.
"The Hunger Games" arrives on DVD, Blu-ray, On Demand and Digital Download August 18.
Will you be picking up your own copy of "The Hunger Games"? Let us know in the comments below, or on Facebook or Twitter.