"The Hobbit" introduces two new Gollum pictures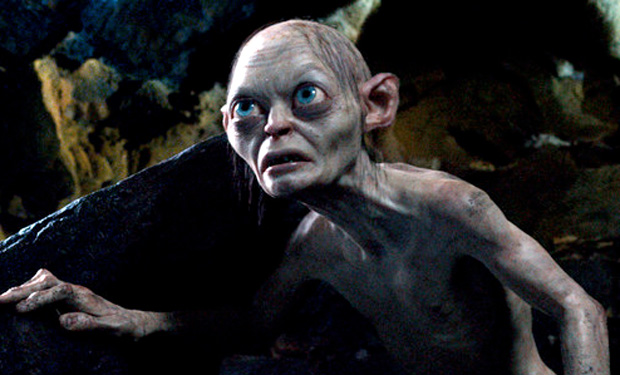 Posted by Terri Schwartz on
There will be many of familiar "Lord of the Rings" faces present in "The Hobbit," but the one we're most excited to see is Gollum's. Fortunately E! News heard our plea, because the website debuted two new images of our favorite cave-dweller in anticipation of the upcoming release of "The Hobbit: An Unexpected Journey."
The first image shows Andy Serkis decked out in his motion capture suit acting out a scene with Martin Freeman. The second shows the finished product of Gollum, which looks very similar to the creature we got to know in the "Lord of the Rings" trilogy albeit with an updated CGI gloss. Both of these images (seen below) seem to take place in the cave where Bilbo Baggins first meets Gollum and acquires the One Ring.
These two photos will debut in the upcoming issue of Empire magazine, which focuses on the prequel to J.R.R. Tolkien's epic trilogy.
The two parts of "The Hobbit" might not be the last we see of Gollum, either. If reports are to be believed, Peter Jackson wants to make these two films into a trilogy. A source close to the deal said that a decision will be made soon, and Jackson said at Comic-Con that there's still plenty of material to pull from.
"There are 125 pages of notes published at the back of 'Return of the King' in one of the later editions. It was called The Appendices, and they are essentially [Tolkien's] expanded Hobbit notes. So we had the rights to those as well and were allowed to use them," Jackson said. "We haven't just adapted 'The Hobbit'; we've adapted that book plus great chunks of his appendices and woven it all together."
He continued, "The movie explains where Gandalf goes; the book never does. We've explained it using Tolkien's own notes. That helped inform the tone of the movie, because it allowed us to pull in material he wrote in 'The Lord of the Rings' era and incorporate it with 'The Hobbit.'"
"The Hobbit: An Unexpected Journey" is due out on December 14, with "The Hobbit: There And Back Again" hitting theaters on December 13, 2013. A third movie would likely come out on December 2014.
What do you think of these new images of Gollum? Tell us in the comments section below or on Facebook and Twitter.