Tim Grierson on the Indie Gem "The Do-Deca-Pentathlon"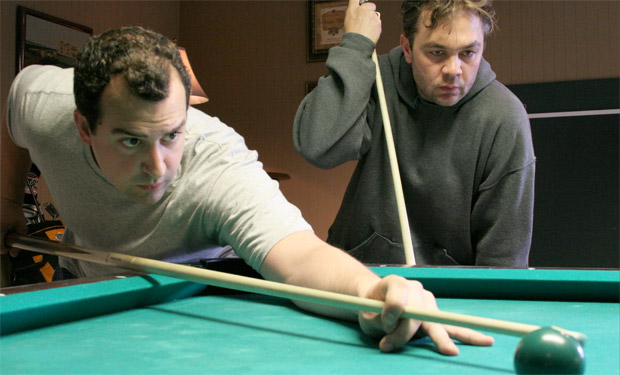 Posted by Tim Grierson on
Summer movie season is host to lots of big movies. Whether it's the gigantic blockbusters like "The Avengers" or serious award-contending indies like "Beasts of the Southern Wild," the films that come out during this time of year all feel a little more momentous. So it's easy for a relatively small, low-budget affair to slip through the cracks, its pleasures lost amidst a crowded marketplace. Which is why I want to recommend you seek out "The Do-Deca-Pentathlon" while you have the chance.
The warring-siblings comedy is the latest from brothers Jay and Mark Duplass, who earlier this year released the surprisingly poignant "Jeff, Who Lives at Home." But in fact, "The Do-Deca-Pentathlon" is an older film from them — it was completed after 2008's "Baghead" and before the brothers' transition to more polished, mainstream indies like "Cyrus." As a result, "The Do-Deca-Pentathlon" almost feels like an outtake or side project from the Duplasses, a fun scribble that shouldn't be taken too seriously but is nonetheless a must-see for the directors' fans. But unlike a lot of side projects, "The Do-Deca-Pentathlon" isn't overly self-indulgent. It's actually quite a good little film.
The movie features two adult brothers, Mark (Steve Zissis) and Jeremy (Mark Kelly), who essentially stopped speaking to one another in their teens. The reason for their falling-out was the Do-Deca-Pentathlon, a 25-event competition they concocted in high school whose winner would be deemed the superior brother. The competition included everything from push-ups to arm-wrestling to holding your breath underwater, but the contest ended in a disputed tie, leaving no one the winner and forever driving a wedge between them. Years later, Mark and his family are visiting his mom when Jeremy shows up unannounced, in part because he wants to stage a new Do-Deca-Pentathlon. Mark's wife (Jennifer Lafleur) forbids her husband to do it — he has to worry about stress — but Mark's old competitive streak with his brother won't go away. And so the contest begins anew.
With a running time of about 75 minutes, "The Do-Deca-Pentathlon" is deceptively slight and boasts a rather obvious moral: Even as grownups, men sure act like children. But as the Duplass brothers have demonstrated throughout their career — which began with their terrific 2005 debut, "The Puffy Chair" — they're quite skillful at taking a catchy premise and exploring it as deeply as they can, finding some unguarded emotion and unexpected truth beneath the obvious laughs. Much of that has to do with the brothers' heavily improvisational style with their actors, which creates a loose, rough quality to their films that sometimes can feel amateurish but often results in some wonderfully lived-in moments between the characters. ("They don't always look beautiful, they don't always sound beautiful," Mark Duplass recently said about his and Jay's films, "but if we try to keep an organic performance that's kind of truthful and funny and sad, then people tend to connect to it.") With its zooming handheld camera and cheapo production values, "The Do-Deca-Pentathlon" feels thrown together, but its careful examination of male discontent is strung together so precisely that the movie's a small little marvel of concise storytelling.
Which isn't to say that "The Do-Deca-Pentathlon" isn't also very funny. On one level, this comedy is simply about two overgrown kids whose childhood competitiveness has stunted their emotional development. Zissis as the conflicted family man and Kelly as the cocky poker-playing bachelor are portraying easily identifiable male types, and both actors do an excellent job exuding all the clichés of their particular type. But the secret to the success of "The Do-Deca-Pentathlon" is that neither the actors nor the filmmakers hint at the fact that they know that Mark and Jeremy are behaving ridiculously. Rather, the characters' silly competition is treated pretty seriously, which makes their struggle funnier but also sadder. In the films that the Duplasses have made since "The Do-Deca-Pentathlon" — "Cyrus" and "Jeff, Who Lives at Home" — they have further satirized male rivalry, but neither of those movies are as cutting as this one in showing how competitiveness fuels men but also corrodes them. You get the sense that the Duplass brothers know in their hearts that their characters are hopelessly immature. But you also get the sense that the filmmakers understand their characters in a way that probably makes even them uncomfortable.
"The Do-Deca-Pentathlon" opened in limited released on July 6 and will be expanding from there. But even if you can't see it in a theater, it's currently available on demand through some cable companies and iTunes. Oftentimes, I wouldn't recommend watching a film at home if you can see it on the big screen, but with its lo-fi vibe, "The Do-Deca-Pentathlon" has an intimacy that should translate just fine to your home theater. Plus, if you end up identifying a little too strongly with Mark and Jeremy's plight, it might be better to experience that harsh realization from the safety of your own couch.