"The Dark Knight Rises" running time announced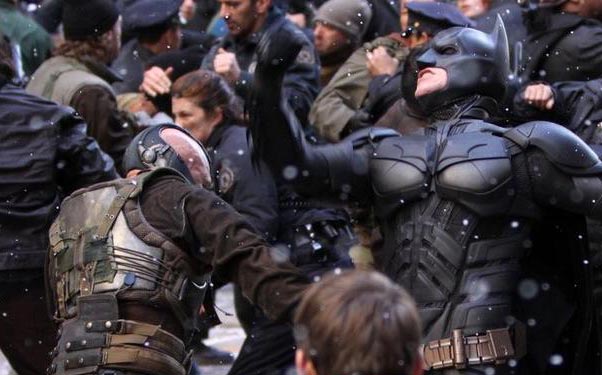 Posted by Terri Schwartz on
If you thought "The Dark Knight" was long, just wait until you see "The Dark Knight Rises." The British Board of Film Classification has announced that the movie clocks in at two hours and 45 minutes, making it just about 25 minutes longer than "Batman Begins" and 13 minutes longer than "The Dark Knight."
That's great news from fans that want the most out of their Christopher Nolan Batman films. Considering this is his last movie in his trilogy, we sort of never want "The Dark Knight Rises" to end. The long running time means that he has plenty of time to explore the storylines presented by having Catwoman, Bane, the Al Ghuls and (assuredly) plenty of other surprise characters in the same movie. Hopefully this means the flick won't end up a jumbled mess like "Spiderman 3" was.
Of course, this news is even cooler knowing that "The Dark Knight Rises" has a third of its running time presented in IMAX footage. That's nearly an hour, and certainly the largest amount of IMAX used in any movie we can think of. Nolan loves the format, so it's unsurprising that he chose to go out with a bang.
Directed by Nolan, "The Dark Knight Rises" stars Christian Bale, Anne Hathaway, Tom Hardy, Gary Oldman, Michael Caine, Marion Cotillard and Morgan Freeman. It's due in theaters on July 20.
Are you excited that "The Dark Knight Rises" is the longest Batman movie yet? Or do you think it's sort of overkill? Tell us in the comments section below or on Facebook and Twitter.