"The Dark Knight Rises" reveals three new posters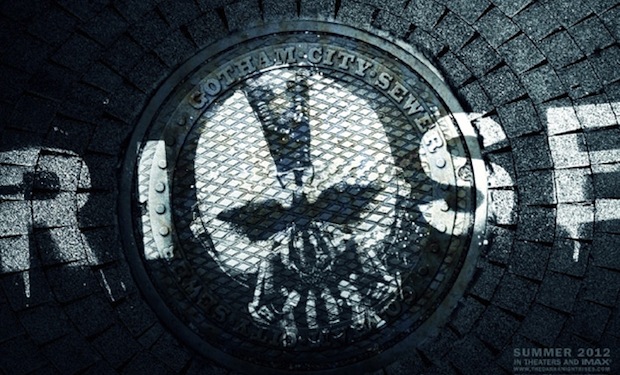 Posted by Terri Schwartz on
After years of hype, it's hard to believe that we're only days away from the release of "The Dark Knight Rises." As the movie's July 20 release date ticks closer and closer, Warner Bros. continues to send out little teases of Christopher Nolan's final Batman movie to make sure we stay interested. Well, they've been doing a great job.
The latest examples are three very different posters for the film that all look equally awesome. We have /Film to thank for rounding them all up from sites like First Showing , SuperHeroHype and Screen Crush. The above image is our favorite: a previously released viral image that Warner Bros. stuck a block of information on and called a UK quad. Hopefully Tom Hardy's Bane ends up being as cool as all the marketing for him is.
The IMAX poster doesn't bode well for a happy Gotham. Batman stands against a burning Gotham City with an empty patch of clouds in the shape of a bat symbol pouring light on it from above. We already know that Batman is Gotham's last hope, but is the angelic imagery intentional?
We'll let the second Bane poster, "Rise," speak for itself. Seriously, someone needs to award the "Dark Knight" marketing team an Oscar or something.
Directed by Nolan, "The Dark Knight Rises" stars Christian Bale, Anne Hathaway, Tom Hardy, Gary Oldman, Michael Caine, Marion Cotillard and Morgan Freeman. It's due in theaters on July 20.
What are you most looking forward to in "The Dark Knight Rises"? Tell us in the comments section below or on Facebook and Twitter!