"The Dark Knight Rises" theater massacre leaves at least 12 dead, 59 wounded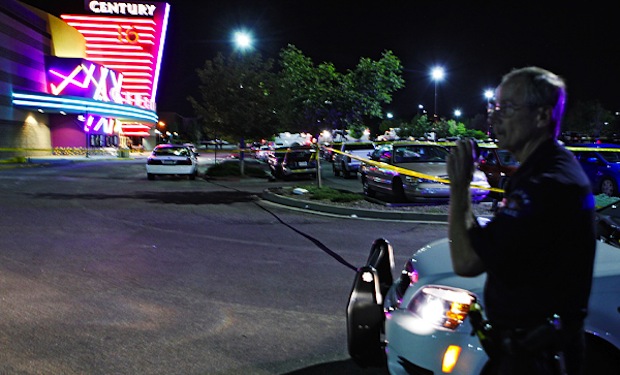 Posted by Terri Schwartz on
A tragedy has struck. During a midnight screening of "The Dark Knight Rises" in Aurora, Colorado, a gunman came out and opened fire, killing at least 12 and wounding more than 50 screening attendees. Two more victims died in local hospitals. The murderer has since been identified and is being held by Colorado police.
Witnesses say that James Holmes, 24, kicked in an emergency exit door to a screening of "The Dark Knight Rises" at about 12:30am Friday (July 20) at Century 16 Multiplex, wearing what appeared to be a bullet-proof vest and a gas mask. He threw out a canister that emitted some sort of gas and started open firing with a shotgun and an automatic rifle. Two pistols were also found on the scene. Theater attendees were reportedly confused by the incident because there was shooting going on onscreen at the same time that Holmes started his attack.
Among the injured were a 3-month old baby, children, teenagers and adults ranging up to 45 years of age. Holmes' motives are not yet known, and police report he did not resist arrest once he was captured.
President Barack Obama issued a statement about the shooting, saying, "Michelle and I are shocked and saddened by the horrific and tragic shooting in Colorado … We are committed to bringing whoever was responsible to justice, ensuring the safety of our people, and caring for those who have been wounded. As we do when confronted by moments of darkness and challenge, we must now come together as one American family."
Warner Bros. reportedly has cancelled the upcoming Paris premiere of "The Dark Knight Rises" and halted all interviews with its cast and crew. None of them have released official statements yet, but the studio says, "Warner Bros. and the filmmakers are deeply saddened to learn about this shocking incident. We extend our sincere sympathies to the families and loved ones of the victims at this tragic time."
The Federal Bureau of Investigation is helping local police investigate the incident. A press conference will be held at 11:00am MST.
Share your thoughts for those affected by this tragedy in the comments section below or on Facebook and Twitter.