SDCC 2012 ends with a special delivery of Comic-Con toys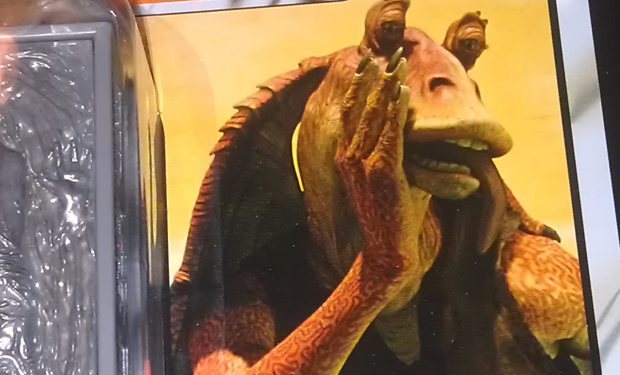 Posted by Rick Marshall on
This year's pop-culture riot known as Comic-Con International may be over, but our pals at Hasbro made the return from San Diego a little sweeter with a special delivery that hit my doorstep at some point amid the West Coast nerdery.
Newsflash: A massive box of toys is a pretty good cure for a red-eye flight across the country and the pain of uncomfortable seating and airline peanuts.
Just in case the size of this box doesn't translate well, Kevin Spacey could fit at least a dozen human heads into this package. (Just to be clear, that's an inappropriate "Se7en" reference. Please don't call the authorities.)
What's in the box, you ask? Well, have a look:
On the far left, that's a pair of Marvel action-figure packs — specifically, the "Marvel Legends Uncanny X-Force" set and the "Marvel Universe Masters of Evil" special-edition pack. On a related note, if you're not reading Marvel's Uncanny X-Force comic, you're missing out. It's great stuff.
Moving to the right, that's Hasbro's SDCC-Exclusive "Star Wars Vintage Carbonite Chamber Collector's Pack," which contains seven figures in old-school, retro packaging that anyone who grew up with "Star Wars" toys will immediately recognize. The pack contains one figure from each of the six movies, as well as a special-edition figure that I'll get to in a second that's pretty amazing.
On top of the "Star Wars" pack is a pair of figures from "G.I. Joe: Retaliation," the recently delayed sequel to 2009's "G.I. Joe: The Rise of Cobra." They're both figures based on the character Kim "Jinx" Arashikage, a ninja played by Elodie Yung in the film. The movie might not be coming out anytime soon, but that didn't stop the action figures from hitting shelves.
Finally, the big box on the far right is probably my favorite of the bunch. It's a special-edition crossover between the G.I. Joe and Transformers universes. Hasbro's "Shockwave H.I.S.S. Tank" combines one of the most iconic vehicles in the G.I. Joe line with one of the most popular robots in the Transformers scene, and the result is a match made in nerd heaven.
Oh, and what about the special Star Wars figure I mentioned earlier? Well, here's the real kicker…
By popular demand, the SDCC-Exclusive set also comes with an extra Jar Jar Binks figure. But before you punch your screen, take note: the new figure features Jar Jar frozen in carbonite.
Yes, one of the most hated figures in the Star Wars universe finally gets what's coming to him. And it's glorious, folks.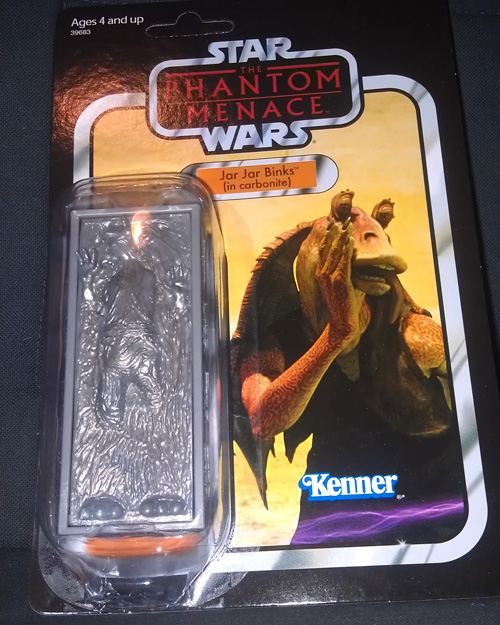 All of these figures made their debut at San Diego Comic-Con, but if you couldn't make the trip to the West Coast, take heart: some of them are available at www.HasbroToyShop.com and elsewhere online (if you know where to look).
Now if I can just figure out what to do with this ridiculously large box…