Saturn Awards: Steven Cole teases "Game of Thrones" season three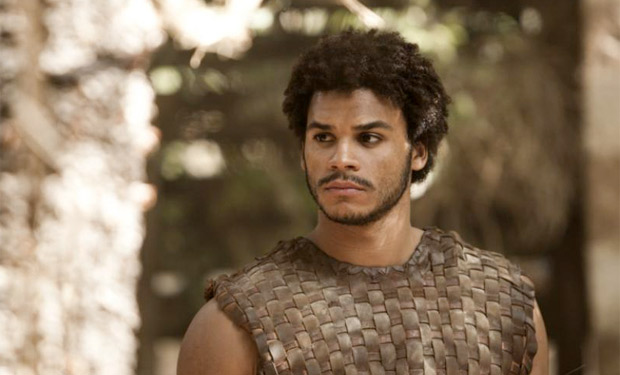 Posted by Terri Schwartz on
It seems fair to say that "Game of Thrones" is the most successful — and ambitious — fantasy TV series of all time. The Golden Globe and Emmy award-winning series recently wrapped its second season to some of the best ratings HBO has ever seen.
Season three isn't due out until March 31, but IFC had the chance to catch up with one of its actors on the Saturn Awards red carpet Thursday to try to pry any bit of information we could from him about the upcoming season. Steven Cole plays Kovarro the Dothraki warrior in "Game of Thrones" and spends much of his screen time with the show's leading lady, Emilia Clarke. But since his character is one that was made up for the HBO series (likely meant as a composite of some of the Dothraki in George R.R. Martin's best-selling books), he said he doesn't know what's in store for him.
"The possibilities are endless, really. It could be a good thing, it could be a bad thing. I don't know. The good thing is I haven't been killed off yet, so I'm still alive and kicking," Cole told IFC. "I'm not too sure what's exactly being kept in [from the books] and what isn't, so I don't think I can actually say without getting into too much trouble."
Cole has read up through "A Feast for Crows," the fourth novel in Martin's "A Song of Ice and Fire" book series. The TV show has only adapted up through the end of the second novel while incorporating some elements of the third into the story. But even though he knows some of what's coming, Cole isn't letting that influence how he plays his character.
"I'm trying not to get too clouded by what's happening in the books and so on and so forth," he said.
Though he isn't an avid fan of fantasy and science fiction genres, Cole still respects what "Game of Thrones" has done for television.
"It's been a long time coming to have a show for the genre on that scale," he said. "It's got a bit of everything really, I guess. It's got the sex, it's got the violence, it's got a really good underlying story throughout it. We're up to season two already, and it still feels like the story's begun. I always tell people who haven't seen the show, I say you really have to invest some time in it. Obviously there's so many characters."
We consider "Game of Thrones" to be a great adaptation of its source material, so we were curious if Cole had any books that he thought should get the same treatment. "I think some of the Wilbur Smith books should maybe be adapted for TV or maybe for film as well," he said of the epic ancient Egyptian adventure novels. "I'm a big fan of like 'The River God' for instance, a really good novel."
What are you looking forward to on season three of "Game of Thrones"? Tell us in the comments section below or on Facebook and Twitter.