Saturn Awards: Joel Courtney talks "Super 8" and working with J.J. Abrams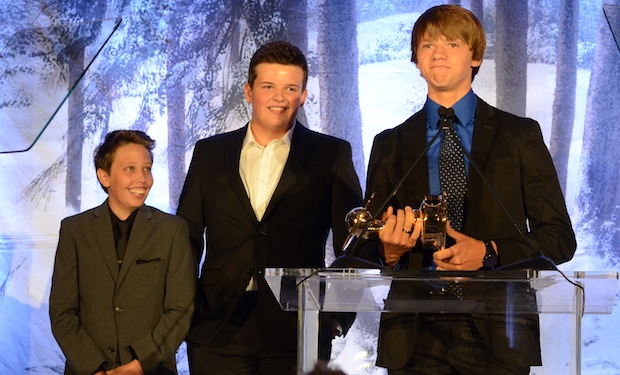 Posted by Terri Schwartz on
Joel Courtney has grown up a lot since "Super 8" came out last year. But even though he's gone on to get roles in other projects like Tom Sawyer in "Tom Sawyer & Huckleberry Finn," he still stands in the shadow of the J.J. Abrams/Steven Spielberg project that made him a star.
That's a shadow Courtney is happy to stand in. The 16-year-old won a Saturn Award for Best Performance by a Young Actor in "Super 8," while the film also won awards for Best Director (Abrams) and Best Music (Michael Giacchino). IFC caught up with Courtney on the Saturn Awards red carpet and asked him why he thinks the movie is perfect to lead the award show winners.
"'Super 8' is perfect for this awards show, for this awards ceremony, because it's slightly horrific, not really, but it's all sci-fi," he said. "It's got a great story, a great plot, and I mean it just fits in with this category so perfectly."
Like "Star Trek 2" now, "Super 8" was shrouded in secrecy when it came out. Courtney said that he thinks that level of protection is important for audiences.
"If you know what's going to happen in the movie, it's not interesting. But I think it's also important to have some publicity because, I mean, you don't want to go into a movie going, 'I have no idea what this movie is going to be about,' he said. "But the thing is for 'Super 8' everybody loved it, so I mean it was a good thing."
"Super 8" was Courtney's first movie experience, and his big break in Hollywood. We asked him what he learned from working with established filmmakers like Abrams and Spielberg in his breakout role.
"Everything, actually. I learned it's okay to shout at people. In my house, I'm not allowed to shout at anybody. It's very strict. It's a very Christian home. I love it. So he taught me that that's okay and a bunch of other stuff. It was a great learning experience," he said.
Courtney added that the element that most impressed him from making "Super 8" was its special effects.
"I had no idea how people did that," he said. "I understood that it was on computers, but I didn't know how, and a lot of the CGI people at Bad Robot, they actually showed us what they do and how they do it. They built us a scene and they made the monster actually run around on their computer. It just blew me away to see it actually come to life like that. And in the movie, it was amazing, even more."
So will "Super 8" ever get a sequel in our movie culture where that seems to be encouraged? Courtney doesn't think so.
"I can't see it coming. But J.J. is brilliant enough to come up with something," he said.
Would you want to see a sequel to "Super 8"? Tell us in the comments section below or on Facebook and Twitter.