Saturn Awards: James Remar says there's a "message" in "Django Unchained"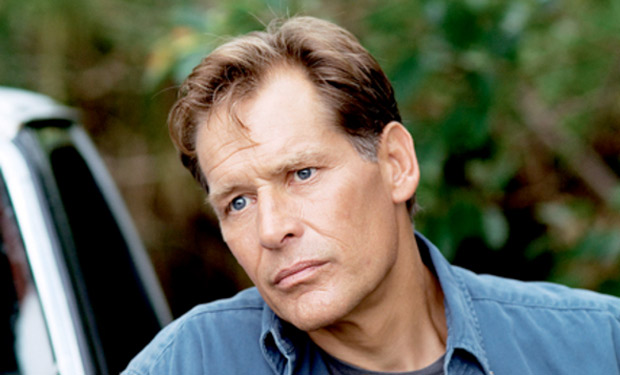 Posted by Terri Schwartz on
To borrow James Remar's words, we're all going to be getting a great big present from Quentin Tarantino come the holiday season this year.
IFC had the chance to catch up with the "Dexter" star on the red carpet for the Saturn Awards Thursday where he received the Life Career Award alongside Frank Oz. Though Remar has plenty other exciting projects on his plate this year, he was happy to go on about his working relationship with Tarantino on the set of "Django Unchained."
"I was in tears when I left [the set of 'Django']. I love Quentin," Remar said. When we asked him if he'd work with Tarantino again, he said, "God willing. Nothing would make me happier. Obviously there's world peace and the well-being of my children, of course, but working with Quentin again on another awesome movie, I'd feel like a De Niro/Scorsese."
Remar will play two characters in "Django Unchained": the slave trader who first acquires Django (Jamie Foxx) and the right-hand man to Calvin Candie (Leonardo DiCaprio). The actor said that the fact he's working with Tarantino at such a late stage in his career is as much a sign that he's doing something right as the Life Career Award is.
"To play with Quentin Tarantino as a grown man, as an older man, is great. And I'm playing a couple of bad guys that are men, and it's a departure. I don't have to play just slime balls. It's kind of boring," he said. "They're interesting characters. They're characters that are men and they're men in their time that are shaped by their time, shaped by their history. So that's been extremely exciting."
Unlike "Inglourious Basterds" before it, Remar said that "Django Unchained" won't be "revisionist history."
"There's a lot of tremendous accuracy in this, and it's very honest insofar as it's showing and demonstrating a period of time where there was incredible brutality from one human being to another, which still exists very pervasively throughout out entire race," he explained. "It's a rough subject and it's a really good subject. I don't know that it's a touchy subject, but he's such an honest guy that he's not going to look at it and flinch. He gives tremendous human dignity to all the people involved."
All the people, including the film's villains. "Villains are people too, and anyone can be on the other side at any time. All races have been enslaved," Remar said.
The topic of enslavement and the inclusion of the n-word in "Django" will likely be a touchy subject for some, but Remar thinks it shouldn't be.
"Enslavement is a horrible thing to do to other people. Quentin has got such a depth of sensitivity and his view on the world that it's almost like each piece that he makes is a movement in a very significant symphony. And all of the films are going to tie together. 'Pulp Fiction,' 'Jackie Brown,' 'Kill Bill, 'Inglourious Basterds,' 'Django': they all are going to stream together in a very profound way because his view is very interesting and very sensitive," Remar said. "And the violence that he portrays, it's stylized. You feel the brutality of it when you're supposed to. It gets your attention because it's something that's exciting to watch. And in that moment, you get the message. It's not just stuff splattering all over the place for the sake of that. There's a message there, and it's profound and it's gentle and it's very filled with love. He's one of the most loving people that's just leaking all over the place."
"Django Unchained" is due in theaters on Christmas Day.
What are you most looking forward to about "Django Unchained"? Tell us in the comments section below or on Facebook and Twitter.