Saturn Awards: Glen Mazzara promises "The Walking Dead" season three will be the best yet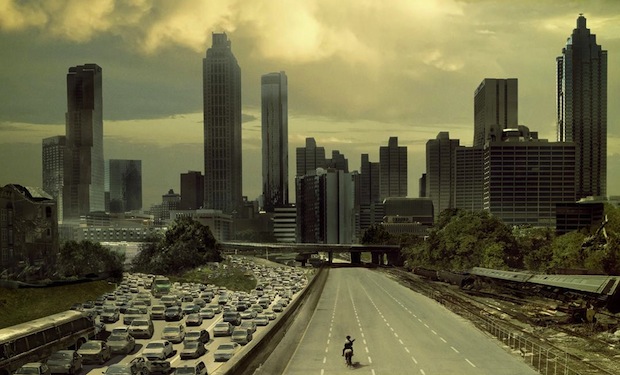 Posted by Terri Schwartz on
If showrunner Glen Mazzara is to be believed, the third season of "The Walking Dead" is going to be the best of the series.
Mazzara was on hand at the Saturn Awards Thursday where "The Walking Dead" received an award for Best Television Presentation. IFC had the chance to catch up with Mazzara, who took over showrunner duties after Frank Darabont left/was fired from the show during the second season, and he couldn't stop gushing about how excited he was for fans to see the new episodes.
"Where we ended up last year, that kind of frenetic adrenalized pace, that's where we're picking up. And I really feel — we're just finishing editing the fifth episode, we've delivered the script for eight — it's a thrill ride. People are really going to say, 'It's too intense, they're burning through story too fast, they're going too fast, they need to slow down, duh duh.' I guarantee fans are going to be excited," he said. "There's no way you can tell what's coming next. It's really great when the actors get a script and they say, 'Oh my god, we're really doing this?' And I'm like, 'Yeah, we're doing it.' So it's exciting and I think that where we ended up last year is our starting point, and then we pick up the pace."
There are two exciting new characters being introduced in the upcoming season: Michonne and The Governor. Michonne is a fan-favorite who is known for her katana-wielding, zombie-enslaving ways, while The Governor is one of the most evil villains in the entire "The Walking Dead" series. Mazzara is excited for fans to meet both characters, though for different reasons.
"There's an exciting new energy," he said. "Michonne is out there and she's kicking ass and she feels fresh and exciting, and she comes into our world and meets our characters. It's an interesting dynamic. It's something that's sort of puzzling to our characters. Who is this badass with the sword? That's hard to figure out."
He continued about The Governor, "The Governor is a formidable opponent, and I will say he's an opponent. He's out there, he's someone to be afraid of. I think he's scarier than any zombie out there, any walker. It's going to be very, very interesting to see him go up against Rick."
There were two big character deaths at the end of season two, both of which deviated from the comics. However, one actress on the show recently came out and said she wants her character to die in the same way she did in Robert Kirkman's series — which would likely end up happening this season.
We asked Mazzara about the likelihood of that happening, and he laughed over the whole incident. Be warned, there are major "The Walking Dead" spoilers in the rest of this article.
"All of these folks want a big glorious death. They do. They want a memorable [death]," he said. "If you look at what we did with Shane's death and Dale's death, those were really emotional moments and what's nice about our show is when you see deaths in a horror movie, you really don't cry the way you do on our show when you lose a beloved character. So I think everyone loves working on the show, everyone's happy, all of that stuff, but yeah they all want their big moment. They want to go out in a blaze of glory."
One actor who shouldn't be too worried is Steven Yeun, whose fan-favorite character was recently given a brutal death in issue 100 of "The Walking Dead."
"That death in issue 100 was pretty shocking. I thought it was really well done. It's something that's really under my skin, but keep in mind that that's 100 issues in," Mazzara said. "We're really just getting into the Governor and Michonne, which I think is issues 20 or something like that, so we have a ways to go. But I know Steven Yeun is very nervous — I don't want to spoil anything — and I've been asked this question before but, I hate to say it, that scene's really stuck in my head. It's a good scene. So we'll see what happens."
"The Walking Dead" returns to AMC on October 14.
What elements of "The Walking Dead" comic do you hope end up in the series? Which characters would you like to see be killed off? Tell us in the comments section below or on Facebook and Twitter.